Commercial Lamp Posts
---
Our resin blended commercial lamp posts are economical and decorative.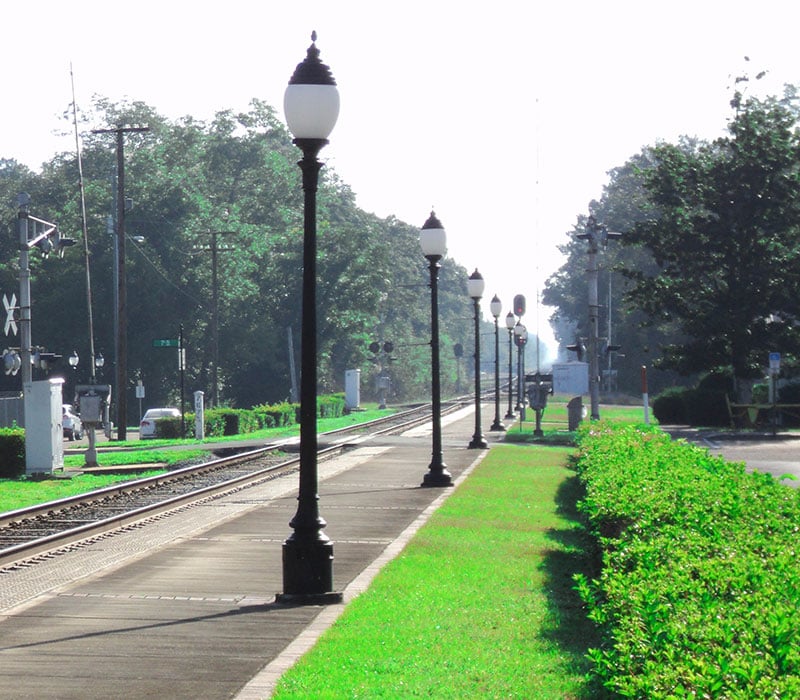 Commercial Lamp Post Sets
We have 45 years of experience with commercial projects, and we are equipped to assist you every step of the way. From proposals and design, to shipping and installation, we provide innovative products and superior service, saving you time and money.
First Sight
Your landscape is the first thing people see, before they arrive at your facility or building, and the lighting is part of the landscape. Day or night, old, rusty steel or discolored concrete light poles can mar the beauty of a meticulously manicured courtyard or entrance. We can offer you, or help you design, a set of classy, durable lighting and site furnishings that will beautify your grounds.
Reliability
Custom Options
Lightweight
Commercial Lamp Post Styles
---
Our commercial lamp posts come in a variety of styles. We use a proprietary blend and construction for our PolySteel® Classic lampposts to that is as beautiful as it is long lasting and strong.
***Due to material supply issues, these products are temporarily unavailable.***
Light poles illuminate the night for visibility, safety and security. TerraCast® is the leader in innovative resin products, and our Classic PolySteel® lampposts line is the leader in modern technology street lighting.
Our lampposts weigh 5 to 10 times LESS than poles made from metal or concrete. They're less costly to make, ship and install, making them lighter on your budget. An order with TerraCast® will save you money up front and long term; it'll even help the economy and the environment.
We offer a full line of lighting products, along with accessories. We work with reputable American vendors for related items like high-quality LED bulbs and wiring. TerraCast® is your one-stop shop for any lighting project.
We use 110-volt wire to power your lighting. It's the strongest, most durable option for underground wiring.
All of our lighting products are lamped with LED bulbs, because the technology of LED is so advantageous. LED is instant on and off, it's programmable and completely customizable, and it lasts longer than other bulbs.