Landscape Lighting Tree Rings
---
Our tree ring lighting is the best way to light up your trees.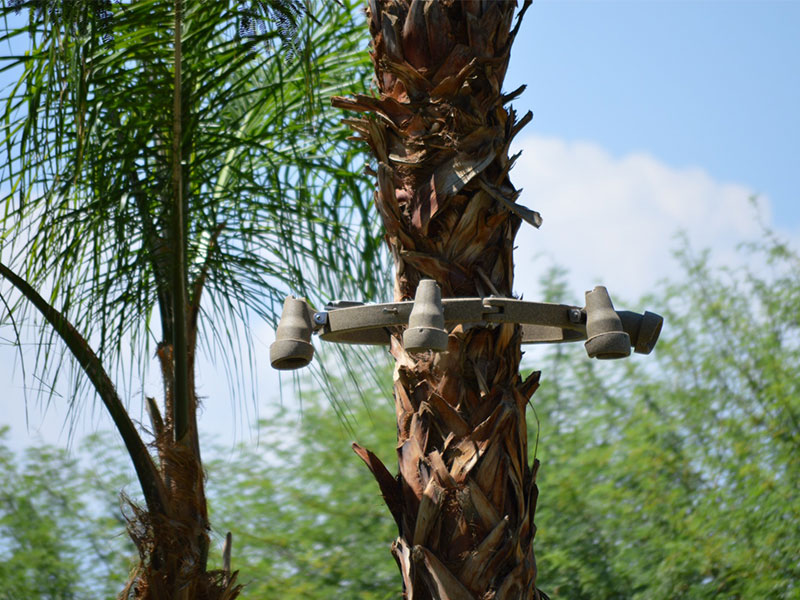 Terracast Tree Ring
A Tree Ring is a light fixture that is designed to attach to a tree by encircling the trunk or a branch. It usually accommodates up to six lights that can be pointed in varying degrees of rotation. Tree rings are a must-have for landscape lighting designs.
Our Tree Ring is a very unique product. There are a few other manufacturers who make tree rings, but none of them are made out of Resin.
Resin Tree Rings are an innovative product that no one else in the world offers.
Our resin Tree Rings come standard in 3 different sizes: 18 inch, 24 inch and 32 inch diameter.
Reliability
LED Bulbs
Tree Ring Options
---
The tree ring was designed as a way to light up trees in a unique way that starts in the middle of the trunk to highlight the branches and the top of the tree, instead of from the base.
Typically, tree rings are installed about three-quarters of the way up the tree. It's not right in your face, and the lights shining up cast dramatic accents into the canopy.
Our resin Tree Ring is two halves that open to fit around the tree. Four rods adjust to the tree to hold the tension-held clamshell design, which is basically a circle that hinges open in the middle. Stainless steel bolts, wing nuts and locking mechanisms secure it in place.
Like all TerraCast® products, our resin Tree Rings are lightweight and easy to install.
Our Tree Ring can accommodate up to 6 lights. They screw onto a one-half inch NPT thread, which is a common threading generally found in junction boxes in landscape lighting installations.
We use LED bulbs in all of our lighting products. LEDs are the best option for outdoors or really any lighting application. They last a long time, they're totally customizable and programmable and they generate less heat than incandescent or halogen bulbs.
Each light can be arranged in a full 360 degrees of rotation, so some can point up, some can point down, whatever combination you like, it's all yours. Point them all out to shed some light on the area. Point them all down to light the way around the roots. Point them all up to illuminate the branches and leaves to create an artistic, dramatic canopy effect.