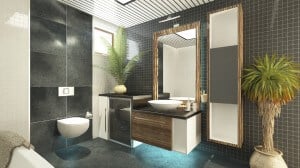 Interior design includes a vast assortment of styles, but all styles benefit from indoor greenery. Countless research has found that plants make us happier, more productive and even healthier.
Even if you have killed off a plant or two (or more) in your day you shouldn't steer clear of potted plants all together. There are a number of hearty indoor plants that can survive a heck of a lot, such as hibiscus plants. Here are 10 top tips for successfully incorporating plants in your interior design.
1. Plan Your Central Design Around Plants
Plants add life and color to a space, while also bringing you closer to nature. Instead of adding plants into your interior design as an after thought, you can create some incredible spaces by planning around your plants. For instance, instead of placing one small pot on a random desk, soften the edges of a rough room by adding foliage all around the outskirt edges.
2. Be Realistic And Always Do Your Research Before Buying Or Planting ANYTHING
Killing plants isn't fun for anyone, and it's completely counterproductive when trying to add beauty to a space. You can greatly reduce your chances for killing a plant by picking varieties known to flourish in your given environment. Don't pick a plant that requires full sun if you are looking to fill a space that only gets indirect sunlight. Pick plants based on what works for a certain area, as opposed to which plant stands out first when you enter the nursery.
3. Plants Can Go Anywhere
Don't forget that plants can grow just about anywhere. Instead of using only traditional potted planters, you can turn to other ways to highlight your foliage, such as wall planters. A wall planter will look amazing once the foliage begins to grow out and over the sides of the planter, practically spilling forth from the wall. This brings life to an otherwise boring solid wall.
Plants can also hang from baskets, sit as a centerpiece at a table, or serve as a focal point in any room. Pick plants that fit with the purpose of the room. Add an herb garden to the kitchen, or a few rows of delicious smelling pink roses to help freshen up the bathroom.
4. Add Sheet Moss Or Sand To Pots
There are a few different materials you can spread over the soil to create a unique look. If you have a small planter filled with African violets, add a cover of moss to the top of the soil and your plant will instantly evoke a cozy appeal. Plus, the moss helps hold in moisture to better feed your plant.
If you are planting succulents, try adding a thin layer of sand on top of the soil in order to evoke a dessert charm in line with the plant's natural environment. Adding these fine touches to indoor planters offers a new way to bring nature inside in the most elegant way possible.
5. Pick Plants That Play Well With Background Colors
What colors are predominantly used throughout a space? What splashes of color are found in nearby artwork or furniture? Take a good look and try and find plants that bloom with colors that compliment these border colors. This will give your interior space a tidier appearance, while also helping to make focal points pop.
6. Trees Are Not Off Limits
Just because trees might seem a bit intimidating to plant indoors doesn't mean you should avoid them. Certain dwarf trees make great indoor additions. Since you will eventually have to move the plant you can add a rolling slab on wheels beneath the planter for easy moving when needed. This is especially useful if you have a plant that requires partial sun and needs to be moved at certain times of the day to a shadier location.
7. Don't Forget The Bathrooms  
Bathrooms are notoriously steamy places, and not all plants will do well in this type of environment. Orchids are beautiful and will flourish in a steamy space, so take advantage! Plants are often left out of bathrooms, but they make a nice addition to these spaces when carefully selected. When it comes to finding the right plant for a bathroom, orchids are only one of many options.
8. Add A Touch Of Casual Luxury With Topiaries
Lollipop-shaped Muehlenbeckia are beautiful, as they are conservative and wild all mixed up into one. A row of small muehlenbeckia look great placed at the center of a table or as a focal point on a mantel. Since this plant does not require direct sunlight it can be used to flawlessly decorate the center of a room.
9. Give Plants Enough Room To Grow
Indoor plants are generally slower growing plants, although if you select a variety that tends to grow faster you will want to ensure the plant has enough space to grow. The leaves require a said amount of space, and so too do the roots.  Make sure you choose a potted plant that is big enough, and transplant to a larger pot when necessary.
10. Add Nature In Unexpected Places
Shock visitors (in a good way) with plants placed in unexpectedly cool locations. For instance, you can add plants to an in ground planter that grows right out of the floor. An in-ground indoor planter can be surrounded by wood, tile, or whatever other flooring you prefer (we just wouldn't recommend carpet!)
You can also place plants in such a way that they grow out of the wall. Some more modern trends show plants growing vertically from the wall, or even upside down from the ceiling. Turning traditional interior design concepts upside down is a great way to infuse new style into your home or office.
The container makes all of the difference when it comes to healthy plants that stand out. Check out our resin planters for unmatched quality and selection!