Benches
---
We have a bench to fit most commercial landscaping application.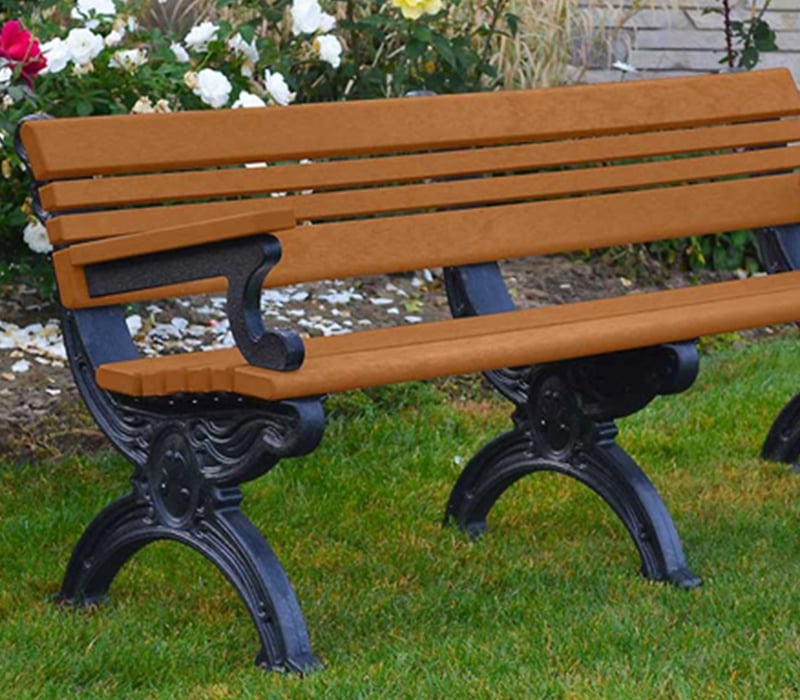 Terracast Benches
TerraCast® Benches are made from 100% recycled HDPE material that will last far longer than benches made of wood, metal, and other traditional materials. Our benches are extremely durable, easy to clean and maintenance-free. They will never rot, splinter, or need refinishing. Personalization with custom engraving or plaques is available upon request.
We also offer ADA compliant benches that meet recommendations set in United States Access Boards' Guidelines and Standards. All of our backed benches meet the ADA seat height guideline, and the Traditional ADA Bench meets the additional recommendations providing full back support and armrests to assist sitting and standing.
Reliability
Custom Options
Quality Of Design
Terracast Bench Styles
---
At TerraCast®, we have a wide variety of styles and colors of benches for you to choose from. Our benches are commercial grade for heavy outdoor usage, while remaining aesthetically pleasing.
Donate a Park Bench Program
 The Donate a Park Bench Program was developed to help local governments save tax dollars on site furnishing products. Once the local government sets up the program for its community, it allows individuals, companies, and charity groups to donate specified items such as tables, benches, bike racks, and trash receptacles. They can be used for parks, walkways, bike trails, city streets, schools, or other public spaces. Each item can be personalized with a plaque or custom engraving for recognizing the donor or a community group or as a memorial bench for loved ones. It provides a great opportunity for local companies to promote their businesses, and there is no cost to local governments or coordinating agencies. Contact us today to learn more!
Benefits of Donate a Bench Program
No cost to the local government
No cost to taxpayers
Promotes local businesses
Increases local tax base
Supports local community outreach
Monuments for veterans and public servants
Memorialize loved ones
Fundraising programs