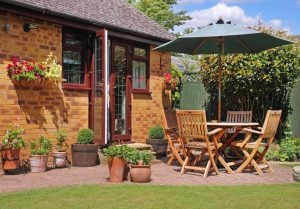 Our long lasting specially formulated resin planters help prevent 4 of the most common landscaping problems from occurring, including dead foliage, corrosion and unsightly graffiti. 
Residential and commercial landscaping is no easy feat. You need to find just the right plants and functional materials. From there, you must create a layout that works for all living things, plants and people. 
Some of the biggest landscaping issues don't arise until a year or so after a project is completed, such as:
Broken planters that need to be replaced

Graffiti and other forms of vandalism

Innocent stains that just happen over time

Rust and corrosion

Mismatched landscaping due to faulty materials

An overabundance of dead plants
TerraCast Planters is here to help you eradicate these problems with our one-of-a-kind planters and other site furnishings.
Say Goodbye To Dead Or Dying Plants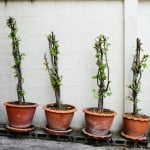 If you're having troubles keeping your plants alive and thriving it might not be your fault. Instead, your planters could be the actual issue. We spent years formulating the perfect planter, one that is good for the environment, long lasting and most importantly, suitable to plants and the outdoors.
Here's the thing, cheap planters are not going to keep plants happy over the long haul. If planter materials let in too much chill or absorb too much heat, your plant roots could be freezing or completely dehydrated in no time.
Cheap plastic planters and some seemingly durable upper-end planters are known to break within as little as a year or two. Almost every planter on the market is susceptible to cracks, which will only get worse once they start to show. If your planter breaks, you are forced to rebuy a new one. In most cases, the original plant is transported to a different container in a process known as transplanting.
Transplanting is rough on plants. When you transfer a plant from one container to another it stresses the roots because they must reattach and form new connections to the soil. If roots are ripped and damaged during transplanting there's a good chance your plant will not survive the move. If roots are too damaged to reattach to the soil, the plant is at risk of starvation and ultimately death. Even if roots are carefully protected during transport, the entire process is still stressful for a plant and may jeopardize the state of its health.
Our resin planters are made to outlast anything on the market, far and beyond. Because our planters are so durable they provide a safe and long-lasting home for flowers, trees and other foliage. This is good for your plants, the appearance of your landscaping and your wallet.
Reduce Rust & Corrosion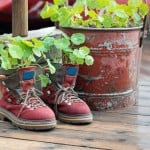 Rust and corrosion develops rapidly, and that beautiful brand new planter won't last long once it does. The sight of rust is disgusting to people, and no one wants to touch anything infected by it because it leaves that nasty orange-ish stain on your hands. The thing is, most landscaping materials are not made to withstand corrosion over the long haul.
Most planters are made with a protective topcoat applied on top, but once this coat is chipped by anything, even one accidental swipe from a lawn mower, corrosion is free to set in.
There are SO many potential contributors to rust including animal urine, sprinkler water, or even salty air. Our non-porous planters are extremely resilient to rust and corrosion, regardless what comes their way. 
Unsightly Graffiti Gone In Seconds
Graffiti and other forms of vandalism are common all over the world, which is why we made sure our planters, and other site furnishings, are resistant to stains. In most cases, once a planter is tagged with graffiti there's no way of removing the stain. Leaving you with a damaged planter that must be replaced.
Thankfully, graffiti is no match for our non-porous resin material that will not absorb ink. That means it's as easy as grabbing a Mr. Magic Eraser wipe to remove any vandalism.
No More Mismatched Landscaping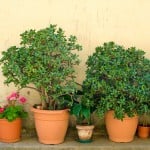 Landscaping should flow together, and look as though everything belongs in the same space. But what if the planter you want is not available in the right color, size or shape to go along with your theme? Our resin planters come in every shape and color imaginable so that you never run into this issue. Plus, we make other site furnishings as well to complete your landscaping look. If you want something entirely unique, we are always happy to create custom molds, colors and imprint logos or other graphics on planters. If you don't purchase durable site furnishings and you need to replace part of a complete set, it may be difficult to find the same exact thing again, especially if it's been over a year. As a result, you will be forced to mix and match as best as you can. When you order site furnishings from TerraCast, you never have to worry about this issue either. We make whatever you need when you need it. Ensuring that your landscaping always matches.
The Best Resin Planters On The Market
Regardless what others try and tell you, there is nothing else on the market like our unique resin blend planters. The main reasons our customers love our planters include: 
Incredibly strong and durable

Resistant to a great deal of impact damage

Resistant to graffiti and other stains

Resists peeling, corrosion, cracks and fading from the sun

Lightweight and easy to move

Made in USA

Made with recycled materials

Recyclable

10-year limited warranty
In countless tests, our specially formulated resin planters outlast the competition including marble, metal, stone granite and other plastic or resin-based products, guaranteed!