Lamp Post Poles
---
Our high quality lamp post poles will last long while fitting your design needs.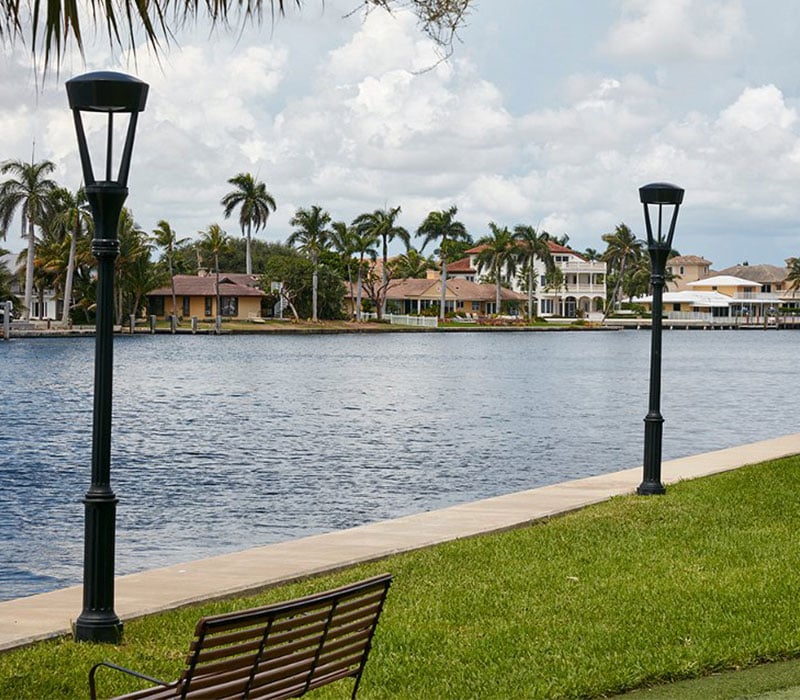 High Quality Poles
TerraCast® Products has been helping municipalities, builders and lighting contractors solve maintenance and longevity challenges since 1984 through our original Classic Lamp Posts division. The solution to these challenges of maintaining the classic design of architectural decorative light posts while eliminating the rusting, paint peeling and fading generally experienced by most light poles before they need to be painted is TerraCast® Products' proprietary PolySteel™ construction.
This solution provides a pole that replicates the classic bell shape base or elongated fluted base and decorative fluted stem design while providing a pole that will never need to be painted, all the while repelling the sun's ultraviolet rays to maintain its deep black 19th century look. The material is color through, which means there's no paint to chip. In combination with LED powered light fixtures and the classic design, the PolySteel™ posts will provide extended years of maintenance free satisfaction.
Reliability
Custom Options
Lightweight
Resin Pole Styles
---
When it comes to the usage of resin, we have the flexibility to provide a custom look that will meet your needs. Please browse the following product categories to look at the wide variety of styles.
***Due to material supply issues, these products are temporarily unavailable.***
Aluminum Pole Styles
---
Sometimes what is needed for a project is an aluminum lamp pole for your outdoor landscaping design. We carry a wide variety of styles with the TerraCast® stamp of approval in quality and design.
Custom Pole Styles
---
These custom poles have a high resolution faux image laid over an eco-friendly powder coat layer. This gives us the ability to make a stunning faux finish with the durability of a powder coated pole.