Wedding / Event planners
---
TerraCast® planters beautify your wedding and reception.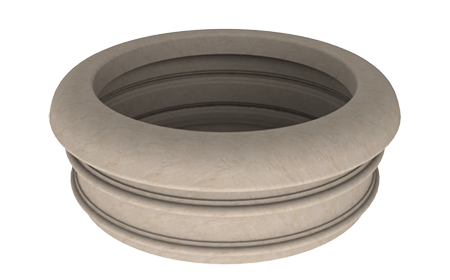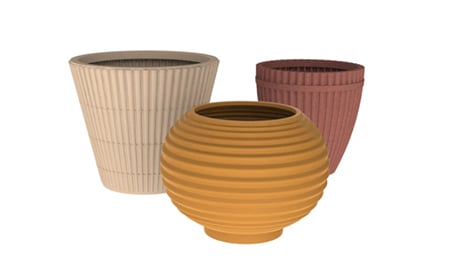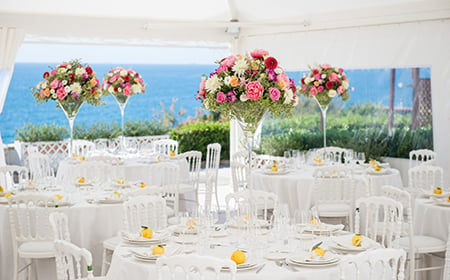 What bride wouldn't want to get married in a perfectly picturesque setting with glittering lights, stone accents and lush foliage? 
TerraCast® can help with that! 
For wedding, party and event designers, planners and managers, we can provide all kinds of wonderful things to help you stage an artfully appointed setting for any function. 
Set the Mood
Set the tone with designer planters. Our planters come in a variety of sizes and shapes, which means that they can be used to create different levels of height and depth in the decor arrangements. This can help create a visually dynamic and engaging space that can capture guests' attention and set the tone for the event. 
From peaceful Zen, and a tropical paradise to vintage romance, and modern vibes to whimsical feels, TerraCast resin planters can deliver in the style and color of your choice. Plus, after the wedding, these planters and the plants you've chosen can go on to enhance the décor of your new home and your outdoor spaces for years to come.  
Setup and Teardown
TerraCast resin planters are lightweight, which makes them easy to transport and move around the event space. This is particularly helpful when event decorators need to quickly set up or rearrange the decorations.  
Our resin planters are durable and can withstand rough handling and transportation, which makes them ideal for outdoor events or venues with limited storage space. They do not crack or break easily, which means that they can be stacked and stored without fear of damage. Additionally, our resin planters are easy to clean and maintain, which can save time and effort during the event setup and breakdown process.  
Life of the Party
The ability of our LLDPE resin planters to not stick to paint can be a significant benefit to wedding and event decorators in several ways. For instance, event decorators can repaint the planters with different colors or designs to match the theme or color scheme of each event. They can easily remove the paint after the event and use the same planters for the next event, which can save time and money. This also allows for a high degree of customization, as the planters can be painted and repainted as many times as needed to create the desired effect. Furthermore, the ability of LLDPE resin planters to not stick to paint means that decorators can experiment with different types of paint and painting techniques, without worrying about damaging the planters or having to discard them. Overall, this flexibility and versatility make LLDPE resin planters a popular choice among wedding and event decorators. 
An event planner or decorator could save lots of time, money and hassle with these, because not only are they easy to set up, break down, transport and store but they also clean up easily. Our resin is non-porous, so if your party winds up with rowdy guests and the planters should manage to get marker, spray paint, fluids or byproducts on them you can hose them off, wipe them down and they're as good as new! 
On to the Next Event
If you need to ship them out of your area for an event, that's not a problem. Depending on the style of the planters, they can nest and save money on freight costs. Being lightweight helps with the shipping cost, too!  
Even the harshest environments won't damage them, so store them in your outdoor storage unit, they won't mind. They're environmentally friendly too; they won't damage your site, whether it's a park, someone's backyard, or a rental area. It's a leave-no-trace, reusable product that you can keep and use repeatedly for events and functions, saving time, money and the environment!