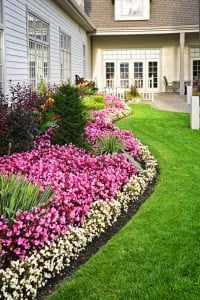 The front of your home offers up a lot of information about what awaits beyond your locked front door. At least this is what people assume when they look at your front yard, hence why curb appeal is so important. You don't have to spend a fortune to have a great looking yard, there are a number of cheap landscaping ideas that can help take your landscape design to the next level.
Enjoy these 10 inspirational residential landscaping ideas that make a big difference.
1. Say Hello With Flowers
Flowers are the perfect way to greet your guests with a bright and cheery hello. Certain perennials and annuals can be planted for yearlong color. Stick with flowers popping with colors that match your overall landscape and home décor.
2. Add A Low Fence
You can add a very small fence to the front of your yard using white wood planks, bricks, or a number of other materials. A low fence is not built to cover your house, but instead to give the illusion that your house is further away from the street than it is. A fence adorned in beautiful plants and flowers makes quite the statement in your front yard. Plus, a small fence that only measures a couple feet is far more affordable to install than a full-size fence. Fence posts also serve as the perfect place to start a trail of twisting, luscious vines.
3. Add Style And Height With Planters and Plant Baskets
If all of your landscaping hits around the same level, it can start to blend together, causing stand out details to fade into one big blur.  Proper landscape design includes displays at different eye levels. Planters come in all different shapes and sizes, meaning planters provide a way to elevate portions of your garden so that certain flowers stand out more. A hanging plant basket can offer even more height, as well as planting different sized plants, including small and large trees.
The key is to purchase planters that are made to stand up to the elements; otherwise you will end up replacing your planters at rapid rates. TerraCast Products uses specially formulated resin to create one-of-a-kind planters made to withstand everything from freezing temperatures to graffiti.
4. Paint Your House
Landscaping and curb appeal can be dramatically altered when you paint your house a different color. The color you pick for the house should go well with the color found throughout your front yard. You can transform a plain, old looking home into a sunny cottage by pairing brightly colored flowers with a fresh coat of yellow house paint. You don't have to take it to such an extreme, a less vibrant shade of paint applied around the window frames, or changing the color of your front door are less invasive ideas that still make a big impact on the overall appearance of your residential landscaping (Read here).
5. Hide Eyesores In Your Yard
An unattractive filter pump, AC unit, or driveway can cause a great looking yard to lose some of its appeal. Get creative and find ways to hide the unattractive elements of your yard using raised plant beds, large bushes, fencing, trees, or whatever works best for your particular landscaping.
6. Add Lighting
Lighting features increase the safety of your home, as well as add a touch of unique style. For residential properties, adding a few light posts to your décor can really make your house stand out. Other lighting elements can also be beneficial to your landscaping, such as LED bulbs that secure around the base of a tree, or lighting elements that can be planted directly into the ground. Depending on the elements of your landscaping you wish to highlight, the best type of landscape lighting will vary.
Just as with planters, it's so important that you purchase lighting fixtures made to stand up to the elements. Otherwise you will be left dealing with issues related to rusting, or tarnished fixtures that look less than amazing in only a short amount of time. Our specially formulated resin products will never rust, or corrode.
7. Add Steps
Pouring concrete steps, or adding a brick lined walkway creates a clear-cut path from the street or driveway to the front door. This is a great way to increase overall curb appeal and make a style statement. You can line the steps or walkways using pretty little rows of plants to further highlight the path (Read More).
8. Create Layers In Your Landscaping
If your front yard has a natural slope you can easily create layers in your overall design. One way to do so is to build a retaining wall of some sort to separate a lower and upper level of your landscaping. Stick with low-growing plants at the bottom level so that the retaining wall and other plants have a chance to stand out on their own.
9. Build On A Front Porch
If you have the budget to partake in a larger addition, building on a front porch can really change the look of your landscaping, and add some square footage to your living space. A covered porch is the perfect place to spend a lazy Sunday listening to the rain, or throw a summer dinner party. You can adorn the porch in planters and hanging baskets, which will tie into your landscaping and make a nice statement.
10. Add A Water Feature
A waterfall, birdbath or other water feature always adds at least two great elements to your yard. First, water features provide a lovely visual appeal. Secondly, water features come with noise appeal, as the water provides a very soothing sound. This soothing quality is why water features are often incorporated into Zen gardens used for meditation. If you go with a birdbath, you also have the perk of watching cute little birds play in the water.