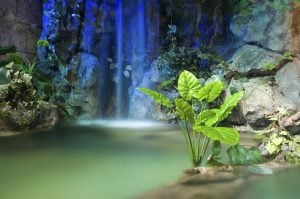 Interior tropical design elements can turn an ordinary space into an extraordinary space. If you spend your days dreaming of a tropical vacation, you might as well make your own space feel like a sunny paradise. Tropical design is not a specific color or type of plant, instead it's a wide variety of different elements that all come together to create a lush, tropical feel.  Yet, the one thing all tropical interiors have in common: there are plenty of pretty green plants to go around!  In this blog we describe the best indoor tropical plants, as well as top tips for creating the perfect tropical design.
The Best Indoors Tropical Plants
Certain plants scream tropical, while other plants are more reminiscent of a dark forest or a rosy garden. In order to secure the right appeal for your indoor tropical décor it's important that you select plants that give off a tropical vibe. Perhaps more importantly, the plants you select need to be able to thrive inside.
These 5 tropical plants flourish brilliantly inside:
1. Elephants Ear (Alocasia amazonica)
Elephant's Ear is a popular and actually somewhat common plant, identifiable by its large leaves and whitish veins that stand out strikingly against the deep green leaves.
Light: These plants are great indoors because they survive with up to 80% shade, although they prefer 60% shade. Situated near a window provides this potted plant with just enough sun. These plants don't do well when exposed to direct or intense sunlight.
Potting Soil: Elephant's Ear prefers very moist soil, so make sure to keep up with watering.
Climate: Elephant's Ear should not be exposed to temperatures below 50 degrees Fahrenheit.
2. Bird Of Paradise (Strelitzia)
The name of this common flower is tropical all on its own, and the flower itself is heavily associated with tropical places, after all it is cousin to the banana. The best part is that this plant grows great indoors and is easier to maintain than other tropical plants. This plant generally blooms during late winter or early spring, but if given superior growing conditions it can bloom multiple times in one year.
Light: This plant does best placed directly in front of a sunny window, as it likes some bright light.
Potting Soil: Requires well-drained soil that is rich in nutrients.
Climate: This is not a cold tolerant plant, and will not do well if exposed to 60 degrees Fahrenheit or lower.
3. Orchids
Wild orchids naturally tend to grow from other things, such as rough bark or a patch of stones. By recreating this type of environment in your own planter you can help your orchids grow better and more naturally. A few types of orchids do well placed on a windowsill, but many are tricky to grow and require professional growing experience and equipment.
Light: Orchids especially love strong light, but not direct sunlight.
Potting Soil: Orchids prefer to be soaked in water, allowed to dry out, and then soaked again. They also require airflow near the roots so you don't want to pack the soil too tightly.
Climate: Orchids prefer temperatures that range between 50 and 85 degrees, and high humidity.
4. Peace Lilly
This flower is native to Central and South America; it is a beautiful green plant with perfect white buds that emerge from the leaf stalk. Within this pretty white petal is a central spadix colored either white or yellow.
Light: When grown indoors, the Peace Lilly enjoys moderate to light shade.
Potting Soil: The soil should never dry out completely, as the Peace Lilly requires constant misting and watering in the summer, and less, but still regular watering in the winter.
Climate: This tropical flower does best if temperatures remain above 50 degrees Fahrenheit.
5. Palms
Palm trees symbolize tropical weather and sand-covered beaches, and there are a number of palms that can be grown indoors. The thing about palm trees though is if you take good care of them they tend to grow and grow, and grow some more. You can slow down this process by keeping the palm pot-bound, but you'll still want to increase the pot size annually. Eventually, many variations of palms will either burst through the ceiling or need to be replanted outdoors. Still, larger palms are fun to pot indoors while they remain small, and they look great outside when they grow too large, making this tropical plant a win-win.
A Few Tips To Keep In Mind When Designing For Tropical Interiors
-Keep The Furniture Simple For Tropical Interiors
The key to creating believable tropical interior designs is to make sure the furniture fits in with the overall vibe. Ornate, cherry wood chairs with thick claw feet are not going to pair well with a tropical theme. Instead you want to look for more simple furniture, such as wicker chairs with soft white cushion covers, or a swinging bench made of bamboo.
-Jazz It Up With Quirky Coastal Accessories
You can make your tropical interior a little bit more fun by adding quirky accessories such as frog stools, or colorful large seashells. While island theme décor often relies on light colors, such as pale blues and whites, you can still add splashes of color. This gives you a lot of options to play with, as there are plenty of great coastal inspired accessories on the market, ready to help transport all that enter into a tropical paradise.
-Seek Natural Lighting
A room flooded in natural light offers a great tropical feel. Windows are the key to letting the light in. Ditch the heavy drapes and utilize window shutters, which are much better at allowing light to pass through. This will also help keep your tropical plants looking and feeling great.
In order to turn your living or working space into a tropical paradise you're going to want long-lasting planters that are beautiful enough to bring indoors. At TerraCast Products we use a specially formulated resin that never rusts, corrodes, or cracks under pressure, granting your plants a reliable home for years to come.