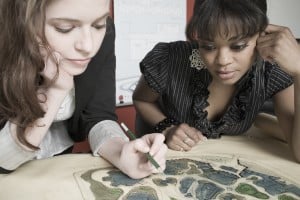 Like most people, I love sitting back and enjoying a great movie. Some movies are the equivalent to junk food for the mind, mind-numbing movies that make you laugh, cry, or a combination of both. Then, every once in a while, you watch a film that feels like more than just another movie. A film that speaks to you, offers you inspiration, and insight relevant to your talents and maybe even occupation.
Despite the fact that everywhere you go you see the work of landscape architects, few films portray landscape architects as the main character. In fact, few movies are made about this field in general, but great movies about landscaping do exist. This varied list, including children's films, documentaries and more, details 11 movies all landscape architects should see.
1. The Big Uneasy (2010)
The Big Uneasy is a documentary film made by Harry Shearer. While the film discusses Hurricane Katrina, the focus is not on the actual hurricane but instead on the architecture that allowed the hurricane to create so much damage.  For four decades New Orleans was unknowingly plagued by poorly designed architecture, but after the hurricane hit the mistakes became painstakingly clear. The Big Uneasy contains a lot of gripping information sure to get you thinking. Plus, learning from the mistakes of others is the most personally painless way to learn.
2. Edible City: Grow The Revolution (2012)
This documentary film focuses on the need to grow more local food, something all creative landscape architects can help promote. Having a few farmers produce the food in abundance for many people creates a lot of environmental issues that could be reduced if people had more access to grow their own food, such as with a community garden. There are many beautiful plants that produce fresh fruits and vegetables that can be incorporated into landscaping, allow this informative film to help inspire your next great idea.
3. The Social Life Of Small Urban Spaces (1988)
If you're short on time, this short documentary by William H. Whyte doesn't take much time to watch, although it reveals the answer to the million-dollar question: why are certain spaces popular, and others not so much? If this film sounds familiar that's because it was released to the public over 25-years ago. But that's just how potent the film's message is. Even now, all of these years later, it is still relevant.
4. The Secret Garden (1993)
For many, this 1993 film may bring back many memories. Aside from the vivid characters and story line, the actual garden in this film is a whimsical place for any landscape lover to feast their eyes. As a grown adult this might not be the first movie you think to watch, but sometimes fairytales spark the best sorts of inspiration. So call out the kids and bring back the nineties with this classic movie.
5. The Lord of the Rings Trilogy (2001-2003)
The natural and mystical worlds collide together to create the imaginary landscapes seen throughout this trilogy. People young and old love these movies, and as a landscape architect the picturesque backdrops may prove more than just a little inspiring.
6. Willy Wonka and The Chocolate Factory (1971)
This classic kid movie is bursting with plants, flowers, and unique architectural elements, including a chocolate waterfall. Take a peek behind the dancing munchkins and disappearing children and study the awesome landscape architecture that went into staging the film.
7. Women in the Dirt: Landscape Architects Shaping Our World (2011)
As a landscape architecture you set the backdrop scenery for life. This documentary takes a closer look at some of the women behind the trees, flowers, and pristine sidewalks, profiling 7 different landscape architects currently making waves in the industry. Each of the women featured in the film strive to promote a greater awareness to function, beauty, and sustainability throughout the landscaping community and beyond.
8. Breaking and Entering (2006)
It's always fun to watch a movie in which your profession is portrayed; it helps make the main character more relatable, after all you do hold the same job. If you want to watch a film based on the life of a landscape architect, the film Breaking and Entering fits the bill. In this movie the main character, played by Jude Law, is a landscape architect for a living when a young thief causes him to reevaluate his entire existence.  http://www.imdb.com/title/tt0443456/
9. Just Like Heaven (2005)
This romantic comedy also features a landscape architect as the main character. The architect, played by Mark Ruffalo, is recently widowed when he moves into a new, and haunted apartment. Just as the man is trying to rid his new home of the ghost, played by Reese Witherspoon, the two mismatched characters start to fall in love.
10. Urbanized (2011)
This documentary, directed by Gary Hustwit, reveals the issues facing urbanized cities all over the world, from the US, to Mumbai, and Germany too. As a landscape architect you are expected to create the perfect scenery in a number of different locations. It's not just idyllic hillsides that need to be planted and designed, urban city centers need green landscaping too. Urbanized includes interviews and insights from city planners, architects, and others currently working to freshen up the urban living experience (Urbanized movie.
11. The Nature Of Cities (2010)
As a landscape architect you are constantly faced with the question: how do I design better environments, better schools, parks, businesses, and city centers? The Nature of Cities takes a closer look at the natural world, and how it can be better incorporated with everyday life, now and into the future. It has pretty much always been assumed that cities and nature do not coexist, yet research continues to prove humans need contact with the natural world in order to be happy, and healthy. Greenery has a real impact on people; in fact simply adding a community garden can alter an entire neighborhood. This movie details the ins and outs of adding more greenery to urban spaces (see here).