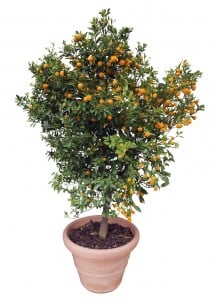 Planting trees in large planters has become a very popular practice, especially in areas where there is not adequate land or soil to plant directly in the ground. Certain trees flourish beautifully in planters, while others will only cause you headaches and eyesores.
There are a couple of things to consider before planting a tree in a pot and calling it a day. A key consideration is finding trees capable of developing a strong root system in a confined space. Tree type is important but you must also consider environmental conditions, planter type, and soil type in order to guarantee success with potted trees.
4 Beautiful Trees Recommended For Large Planters
Certain trees grow great in a container, while other don't. Slow growing trees are some of the best options for container planters, as fast growing trees require constant repotting. Small, dwarf, or semi-dwarf trees are the best bet for container planters because they won't outgrow a large pot.
The following 4 trees do great in large planters:
1. Fruit Trees
People are often surprised to learn that they can grow fruit trees in planters. Fruit trees are beautiful and they also provide delicious food! Some of the best fruit trees for planters include cherries, peaches, figs, tangerines, lemons, apples, and limes. Container-grown fruit trees will naturally produce less fruit than full-grown fruit trees, but they will still offer plenty of delicious goodies.
2. Japanese Maple Trees
Japanese maple trees provide a beautiful look year round, showing off unique changes in winter, spring, and fall. Due to the Japanese maple's petite height, this tree is often used as a great addition to patio spaces. This tree does best in hardy zones 5 through 9.
3. Evergreen Trees
Evergreen trees and shrubs are another excellent option that can be confined to a container. Even larger evergreen variations tend to do well when potted, this is largely because evergreens grow really slow and can be kept in the same container for many years. Evergreen trees are incredibly hardy and hold onto their foliage throughout the year, granting year round shade, as well as a natural privacy shield.
Evergreens come in a wide variety, those known to do best in planters include: boxwoods,  'Hicks' yew, juniper 'skyrocket', ground-hugging juniper, and the Bosnian pine. Evergreen species have different hardy zones, ranging all the way from zone 4 to zone 10. Before settling on a specific evergreen variation make sure it is suitable for your local hardy zone rating.
4. Tropical Trees
Tropical trees also do well in planters, although they take a little extra care. The sago palm tree (Cycas revolute) is a slow growing variation that does well in USDA zones 9 through 11. The sago palm tree can eventually grow as large as 10-feet tall and 8-feet wide.
Another tropical option is the Dwarf palmetto (Sabal minor), this tree grows well in USDA zones 8 through 11, and can reach 5 to 10-feet tall. This tree offers huge fan-shaped fronds that can total 5-feet in length, along with pretty white flowers that bloom in the spring.
3 Things To Consider When Planting Trees In Large Containers
Finding a tree that is capable of growing in an enclosed planter is only part of the equation. There are other considerations you must take into account if you want your tree to thrive throughout the year. When growing trees in planters you must also consider Hardiness Zone in your area, environmental conditions, appropriate planters, and soil type. It sounds complicated, but we have you covered, read on to learn more.
1. Environmental Considerations For Potted Trees
The limbs of trees are generally more resistant to cold weather than the roots, this is because the roots are tucked deep underground where they experience less fluctuation in warmth and chill. Buried deep beneath the soil, the roots of a tree remain in a more climate-controlled zone. Yet, when trees are grown in planters the roots do not have this same protection, which is why people often see their potted trees dying even though they purchased a tree with a USDA Hardiness Zone that is compatible with their region.
You can help reduce the risk for this by selecting trees that have some wiggle room in regards to local Hardiness Zone. You can also protect trees by placing them in sheltered locations, or wrapping the planter to keep heat in during the winter.
2. Finding The Right Planter For Trees
When planting a tree in a pot you need a specific container capable of handling the job. Self-watering planters are highly recommended to keep trees adequately hydrated. Even if you pick out the perfect planter for your tree, it might not be the right forever home. As trees grow, they need to be transplanted to a different, larger planter to accommodate a growing root system.
3. The Right Soil Type For Potted Trees
When growing trees in a planter you also have to carefully consider soil type for success. Using ground soil is not recommended at all, while trees may flourish nearby in this soil it won't be good for your planter. Ground soil is often contaminated with bugs, seeds, and diseases, all of which you want to avoid. Using planters offers you the chance to create a substrate blend that is perfect for tree growth.
Good potting soil will aerate, drain, and retain the perfect amount of water for superior tree health. The right soil for each type of tree will vastly differ; do your research before selecting the soil type for a particular potted tree.
TerraCast Products proudly produces the highest quality planters on the market, made to withstand weather, graffiti, impact damage and more.