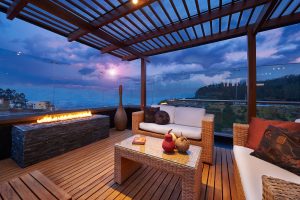 How often do you use your patio space? Or rather, how much do you actually like your patio space? If both questions cause you to shrug your shoulders, there are plenty of ways to spruce up your patio. Perhaps even turning it into your new favorite spot to hang out. Here are 6 inspirational ideas you can add to your patio for improved function and design!
1. Potted Plants
What is a patio without plants? If you only have funds to add one thing to your patio, it should be potted plants. Since plants come in all shapes and sizes, they can be used to hide ugly spaces, shade your patio from nosy neighbors, create borders and boundaries, and they also serve as a beautiful source of inspiration. Flowers adorning your patio will also enhance the overall look of your home.
When it comes to good patio plants there are so many different options to pick from, such as a petite Japanese maple tree, or a bundle of basic but beautiful annuals. Succulents, herbs, and evergreens, your list for plant options goes on and on. Mix and match different types of foliage for a unique look that blooms all year.
Just make sure to check your local hardiness zone ratings and buy plants that do well in your area. Also, if your patio is covered, make sure that the plants you purchase can flourish in the shade.
It's not just plants that brighten up patios, but the containers they are soiled in can make an equally grand statement. Planters come in as much variety as plants, lending you endless creative resources (Learn More).
2. Patio Lighting
Lights can be hung from above, wrapped around planters, or installed into the wall. No matter where or how you add lighting to your patio, it will make features stand out more at night, and it will also enhance safety. To help conserve energy you can install automatic lights around your patio that turn on from a sensor when someone approaches the area. Another way to conserve energy is to use LED lighting for patio lights.
3. A Place To Sit
No matter how great you get your patio to look if there is nowhere to sit you won't be tempted to hang around and enjoy it. The greatest patios have a comfortable seating area, ornamented with chairs, and/or a cozy bench. You can also add little or big tables, whatever you have room for, to provide a place to set your drinks, food, book, or phone while you relax and enjoy the shaded scenery.
Looking for an affordable way to add new outdoor furniture? Check out in the garage or visit local thrift stores and garage sales to find old furniture. You can then spray paint old furniture for an affordable way to add new charm to your patio.
4. Patio Rugs
For covered patios, add a fun outdoor rug as a centerpiece, just like you might use in your living room beneath the coffee table. You can find an assortment of outdoor patio rugs at many different local stores, or you can always find them online. Just make sure to take the measurements of the surface area you plan to cover first before purchasing a rug. Feeling crafty? You can take an old rug and paint over it using fabric spray paint to create an entirely new look. Use stencils or tape to create the design patterns you are imagining (See Here).
5. Add Pillows & Other Comforting Indoor Accessories
Just because your patio is located outside doesn't mean it should lack the finer indoor details, like big puffy pillows or pretty ceramic statues. Think of your patio as an extension of your indoor living space. When buying pillows to decorate your patio furniture, look for pillows that zip off for easy washing. The last thing you want is to buy outdoors pillows that don't have an easy solution for keeping clean.
6. Ceiling Fan For Cool Comfort And Style
If your patio is covered and there is an available source of power, a ceiling fan will step up your patio a notch in more ways than one. Outdoors ceiling fans come in all types of styles to help complete your look, but they also offer comfort on hot days. Instead of a fan, you can also hang a chandelier with electric lights or candle-lit lighting for a similar look, but without the breeze.
3 Things to Avoid When Decorating Your Patio Space
DO NOT buy furniture that is too small.
Don't overcrowd your patio with furniture that is too large, a traffic hazard does not make for a comfortable patio. Instead, gravitate towards furniture that offers a comfortable and spacious feel so that people want to gather round, and have adequate space to do so. Appropriately sized furniture is only part of the puzzle, you also want to make sure that it is set up in a way that is functional and easy to get around, for both hanging out and cleaning.
DO NOT make your patio a different style than the rest of your house.
The patio can be viewed from so many different angles of your home, both indoor and out. For this reason it's important that your patio space does not stand out in a bad way. You want to be sure that the décor your select for your patio flows with the rest of the house, including both style and architecture.
DO NOT use indoor furniture and accessories to decorate your patio.
Make sure that the materials you use to decorate your outdoor patio with are capable of surviving the elements. Although your patio might be sufficiently covered, it is not covered all sides, and so materials are susceptible to getting wet or very hot from the rays of the sun. If you purchase patio furniture that cannot withstand all 4 seasons it will not last for very long before needing to be replaced. Look for outdoor furniture that has fiber fillers capable of repelling water, moisture, and mildew, as well as UV protection against the sun.
TerraCast offers a vast selection of commercial grade site furnishings for residential patios that pop!