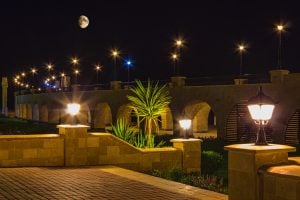 When the average individual visits a public place, they almost always take the landscape lighting for granted. Lighting helps safely guide people through a premise, and is expected to be there. Yet, when a dark pathway presents itself, or an unexpected step trips you up, you suddenly wonder where are the lights?
For commercial landscaping you must have sufficient lighting in order to meet proper safety guidelines, and avoid any dangerous occurrences. Here we provide some beneficial tips when questioning how to best design commercial landscape lighting.
The Value in Quality Commercial Landscape Lighting
There are many different reasons that lighting is valuable to commercial landscaping. Key reasons to take commercial lighting seriously:
Unlit areas are more likely to beckon crime, people feel confident hidden under a blanket of darkness.
If walkways are not marked people can easily trip, fall, and become injured. Injuries on commercial property lead to messy lawsuits, and without proper lighting you may easily be found at fault.
Ability to navigate, if people cannot see where they are going, or read the available marked signs, they will become lost, frustrated, and unwilling to return.
Top 7 Tips For Commercial Landscape Lighting
Landscape lighting is a necessity as well as an art form. When all of the bullets are checked off, landscape lighting can serve as more than just a light in the dark. Here are top tips for instituting landscape lighting that works.
1. Carefully Consider Every Last Shadow
In your current plans, are there any parts of the property cast in shadows? If so, are these places people will walk, or try to access at night? Will this provide a place for troublemakers to hide out, or old people to trip and fall? Every darkened corner on a commercial property is a cause for concern regarding employees, and customers.
Without a doubt, the following places you want to have lighting installed:
Pathways
Steps
Surrounding pools, or any body of water
2. Draw Attention With Lighting Techniques
Consider what you want lighting to highlight about the property. What does the commercial building stand for? Does this message carry through once the sun goes down? With the help of properly arranged lighting you can keep focal points in sight day and night. Every property has a focal point, be it a waterfall, statue, or sign, which can be highlighted with landscape lighting.
3. Keep The Foliage Green All Night
You can place lighting by flowers, greenery, and around the bases of trees in order to highlight pretty natural features around your property long after the sun goes down.
4. Use Automatic Lights To Save Energy
If there are parts of the commercial property that are not commonly frequented, automatic lights offer an energy-saving solution. Automatic lights will turn on whenever someone passes within their range, and then turn off after the presence departures. Make sure and place automatic lights near other lit areas to prevent shocking someone when suddenly, seemingly out of nowhere, lights come on.
5. Long Lasting Lighting
How often do you want to deal with switching bulbs or changing out lighting fixtures? Probably not very often, because seriously, who has time for that? The thing is, many of today's commercial lighting products do not withstand the test of time.  This why it is so important to find out the materials used to craft outdoor products to ensure they will last. We use resin materials for all lighting features so that they never any rust, or show other signs of decay due to the elements.
The bulbs used throughout your landscape lighting will also impact how often maintenance work is necessary. By using LED lights you will tremendously reduce the frequency of having to change them out, while also decreasing your electric bill. LED lighting lasts 25 times longer than traditional incandescent bulbs and uses 75% less energy (Learn More).
6. Balanced Lighting
Just like any element in landscape design, the lighting on your property needs to be well balanced and easy on the eye. If there are patches of ongoing darkness or weirdly dark corners, this doesn't flow well. The human eye desires to see from left to right and then up and down, keep this in mind when planning your lighting fixtures as well as placement.
7. Comfortable Lighting
Avoid lighting that is overly bright, glaring to the eyes, or too dark. Make sure that the lighting is appropriate in all respects or else it won't properly do its job.
Types of Landscape Lighting
There are so many different types of lighting that you can use to adorn your property, from natural lighting that blends into grass, shrubs or trees, to light posts. All lighting design features offer a unique aesthetic charm, while also lighting a pathway for people to safely travel along.
Landscape lighting tree rings:
If there are a lot of trees dotting your commercial property, Tree Rings attach onto the trunks of trees for convenient and adjustable lighting. Different vendors make variations of Tree Rings, but it's important that you select a waterproof Tree Ring. We are the only ones in the industry that use waterproof, rust proof, and virtually indestructible resin to create Tree Rings.
Another way to incorporate trees is to wrap LED lights around the mid-section of the tree trunk for a look that is unique, pretty and festive too.
Ground lights:
Lights can also be installed in the ground, positioned upwards to highlight a sign or building feature, or positioned straight ahead to light up a sidewalk. Some ground lights are very close to the ground, while others include several feet of height.
Lampposts:
Lampposts offer height and sufficient lighting to a wide area without the need for trees or other structures. They can also serve as a decorative landscape feature.
Lights can also serve as a bollard block to keep traffic out of certain areas or to separate sections.
TerraCast offers high quality commercial lighting solutions you can count on, today and many years down the road.