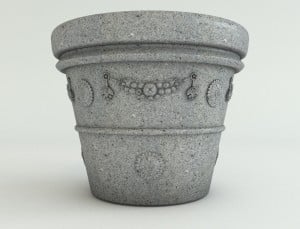 When buying outdoor planters it's important to consider the materials used in the manufacturing process. Outdoor planters have to battle off the sun, snow, dogs lifting their legs, and birds dropping off splattered white packages, not to mention the constant fluctuation between hot and cold temperatures. With so much going against your outdoor landscaping products, it's no wonder people end up replacing planters so often.
The thing is, you don't have to replace your planters anytime soon. There's a certain kind of planter material available that allows you a worry-free, maintenance-free solution to long lasting planters. It's called resin, and no, not the same plastic-based resin you'll find at your local gardening center. Here we explain the difference between genuine resin planters, and how they can benefit your landscaping in 7 fundamental ways.
But For Starters, What Is Resin?
Is resin plastic? No! This is a common misconception due to many products advertised as resin that are actually just plastic. Real resin is made using a special composite blend that is not plastic at all. Resin is incredibly lightweight and can be made to look like many different materials for a fraction of the cost.
True resin is made of a low-density polyethylene; it originates as a powder and is made into a liquid before being baked into molds at just the right temperature. The composite of true resin includes 3 parts:
The strong inner core
The center protective layer, which is a thick chunk of polyurethane
An outer shell made of indestructible resin
By combining these parts into one planter, the results are good-looking, resistant to wear, tear, weather, and even impact damage.  Here we detail the 7 greatest reasons true resin products are the most value for your dollar, year after year.
(Learn more about our manufacturing process here)
1. Resin Planters Withstand The Elements
When temperatures fluctuate between hot and cold, the actual planter materials swell and contract. When properly crafted, resin planters are made with the flexibility to withstand these changes without cracking. On the other hand, most materials are going to eventually break down due to a build up of small cracks caused by fluctuating temperatures.
2. Resin Can Look Like Anything You Want It To  
Commercial property, private residence, or Public Park, depending on where you are planning to utilize resin planters, the look and style you need differs. That's the great thing about resin products; they can be made to match any style or material you want.
Picturing a granite, stone, or brick planter? Regardless of what you want your planter to look like, resin can deliver the perfect replica. Time and time again people are shocked how much resin can be made to look like something else, while remaining more durable and lighter weight.
3. Resin Is Incredibly Light Weight
The great thing about resin is that it is lightweight, but still heavy enough to withstand a good wind gust without blowing away. Heavy planters are only going to get heavier once you add soil, water, and a growing plant to the pot. In fact sometimes planters get stuck places because they have grown too heavy to physically move. Lightweight planters make it easy to redecorate or rearrange landscaping each season.  Because resin planters are lightweight they are also less expensive to ship, which works especially great for those looking to buy in bulk.
4. Eco Friendly To Manufacture & Recycle  
Resin can be made using almost entirely recycled materials; this is big for the environment. Plus, since resin products are made with recyclable materials, they can also be recycled, keeping the green cycle continuing onwards.
5. Resin Is Resistant To Graffiti
Planning to place your planter in an area with high traffic? If so, graffiti is always a possibility. An awesome benefit to genuine resin products that often goes unknown is they are actually resistant to graffiti. All stains, including paint, can be removed with some scrubbing and a store-bought cleaner.
6. Resin Retains Its Color
By verdict of being outside, planters may end up in the direct line of the sun. Over time the sun's rays can fade the color, leaving you with a washed out planter that looks less than appealing. That is unless you have a genuine TerraCast resin planter, in which case the added UV Inhibitors help planters maintain their original color no matter how much sun they get. Kind of like magic!
7. Resin Does Not Corrode  
Resin cannot corrode, which is really something of a blessing. It doesn't take much to erode most outdoor products, a regular flow of dog pee, knocks during lawn mowing or weed whacking, and even a nearby sprinkler head can be the corroded demise of many planters. Your resin planter can handle it all, without the risk of unsightly and damaging rust.
Resin Varieties, Not All Resin Is The Same
As mentioned before, not all resin is created equal. The garden planters at your local nursery are made of 'resin' but this type of resin originates from a high-density polyethylene, meaning it's really just plastic. The only similarity between high-quality resin and this type of resin is that they are both lightweight. Other than that, the similarities are non-existent. True resin, such as the resin we use to craft our products, is made from a linear low-density polyethylene, which is not plastic at all.
Once you see the differences between genuine resin products and other outdoor product materials, the clear choice is resin. If you don't want to deal with replacing your outdoor planters anytime soon, resin is the best material to go with.
Terra Cast Products has been providing the very best in resin planters for over 30 years, serving corporate, government and residential needs. Check out our vast selection of long lasting, 100% guaranteed products today!