These 8 unique public landscaping ideas offer the inspiration you need to create one of a kind results.
1. BUGA 05 Playground By Rainer Schmidt Landschaftsarchitekten
Playgrounds are typically full of woodchips, grass, swing sets and slides but Landschaftsarchitekten had different ideas for his playground, which includes no play structures at all. Instead of swing sets and monkey bars he combined two materials, an orangey-colored tartan and grass with an ever-changing series of terrain that promotes kids to roll down small hills, jump up embankments and skip through valleys. The unique playground design located in Munich, Germany was built in 2005, and has since turned a lot of heads. The simplistic design still wins the hearts of kids, making it a superstar in regards to innovative public landscaping ideas. (Reference)
2. Garden Of Louis XIV
This stunning garden located in Versailles, France is one of the most famous gardens in the entire world. The place is simply unmatched in beauty with rows of pristine green trees, and detailed grass patterns surrounding a beautiful pond complete with erupting water fountain. Originally built for Louis XIV, the impeccable landscaping was designed by Andre Le Notre. Landscaping this timeless clearly deserves studying, and a place on this list of the best design ideas. (Reference)
3. Times Square New York
Those beautiful flowers you see blooming each spring in Times Square are living in our heavy-duty, durable planters. Let us take a short moment to brag a little on one of our own contributions to successful public landscaping.
Times Square in New York City is one of the busiest landmarks on the planet; some days over 460,000 people come here. Due to so much traffic figuring out what sorts of landscaping elements to use is a tricky issue, after all it needs to look good but also stand up to lots of wear and tear.  Insert TerraCast specially made planters and you have a win-win. A way to plant something pretty and guarantee that no rust, graffiti, impact damage or weather element is going to bring down the planters.
Even if the space you have in mind only sees 1/3 of the traffic Times Square gets you still need landscaping materials that can stand up to these same sorts of challenges.  Our specially formulated resin doesn't rust, corrode, stain or break down, meaning you can count on it for many years to come.
4. High Line New York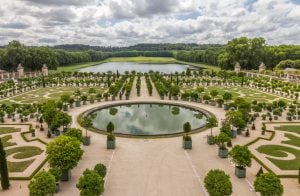 Diller Scofido + Renfro designed the High Line at the heart of New York City. The elevated park offers a glimpse into the future with its new wave charm. The park sits atop an old and unused New York Central Railroad spur known as the West Side Line. It falls in line with the mission to bring vegetal and organic elements to the urban jungle of NYC. From 30-feet above ground level you have a unique vantage point of the city including views of the river. Any design that finds a way to incorporate greenery in urban cities is a favorite of ours. After all, greenery is proven to make people happier, less violent and more respectful of their environment. (Reference)
5. The Circle in Uptown Normal, IL
The Circle might not look as fancy as some of the other examples on this list but it offers so many different functions within one space that it needs to be mentioned. The circular space provides pretty greenery, sidewalks and benches for people to enjoy and take a break from the surrounding city. But that's not all, the area also serves a way to recirculate storm water as a public fountain and it also reduces traffic jams by helping improve the flow of cars. The City uses the space wisely; during the day it is typically full of children, families and couples just kicking back with a picnic or ice cream cone. Festivities and community events are often held here as well. (Reference)
6. Levens Hall
Levens Hall located in England includes some of the most incredible geometric landscaping designs you've ever seen. Situated in the beautiful Lake District, Levens Hall is the world's oldest topiary garden with its original design still in tact. The garden dates all the back to 1694 but the style strongly reflects the late 17th-century when it became very popular to cut plants into geometric and abstract shapes. Plants around here include impossibly sized top hats made of foliage and ginormous yew and beech hedges cut into garden rooms. The garden is also home to a full orchard, nuttery for beechnuts and walnuts as well as a bowling green. (Reference)
7. The GM Renaissance Center In Detroit, Michigan
GM used their green thumb to create a living roof atop their Detroit car plant. The roof works to manage the temperature inside of the factory, thus reducing the need to use as much electricity. They encourage the community to help care for the garden by watering it and in return people are allowed to take free produce. This community involvement has helped expand the project even more; in fact in one-year they doubled plantings from previous years. Companies making these sorts of changes towards a greener tomorrow are doing what it takes to ensure our planet is still here for future generations to enjoy. By employing greener landscaping you will save money and help the environment at large.
8. The City Square Mall In Singapore
The City Square Mall is Singapore's first eco-mall and stands as a symbol of the city's efforts to go green. The mall connects to a 49,000 square foot park called City Green and sits directly on Singapore's historic New World Amusement park, which is connected to Farrer Park MRT Station. This busy area is built with the environment in mind while still offering shoppers 700,000 square feet of shops. The energy-efficient technology used to design the building saves a whopping 12 million kWh annually thanks to its tilted green roof fitted with solar panels, LED lighting, and double-glazed façade glass. Of course, the parking lot includes plenty of spots for hybrid and electric cars complete with charging stations.
Take any public landscaping project to the next level with the highest quality eco-friendly landscaping products made exclusively by TerraCast Products.