If you plan on entertaining outside this summer you're going to need a great outdoor eating area that works for both you and your guests. There are a number of tips and tricks you can utilize to score the perfect outdoor space for enjoying a casual BBQ or a fancy 5-course meal. 
There are different types of outdoor eating areas; there are living and lounge spaces, outdoor kitchens, and covered dining areas with tables and chairs. The best option for you will vary depending on how much space you have to work with and how you plan to use your outdoor eating area. No matter how much space you have there are ways to make any dinning area work perfectly.
Don't forget these 7 important things when creating your to-dine-for space. 
1. Protect Your Table From The Elements
Depending on where you live your table may or may not require a good covering from the elements. If you're outdoor eating area is sufficiently covered you can host dinner parties regardless of what the weather has in store. A full built-in covering is the most costly option, while a simple umbrella is much more affordable but doesn't offer as much protection from the elements. If you go with a pergolas that only covers the top of your table and not all sides add drapes that can be pulled back or let down to protect guests from wind, rain or harsh sunlight.
Make sure that your tables, chairs and other accessories are able to withstand severe weather. Outdoor dinning furniture needs to be waterproof, rustproof and built to last in the outdoors.
All of our landscaping products are made with a specially formulated resin that doesn't rust, corrode, stain or break down no matter what.
2. A Traditional Table Is Not A Must
A traditional outdoor dinning table always looks nice but it's not a must. You can step outside of the traditional box and add a different sort of seating arrangement for eating outside. Creating an L shaped bar area that surrounds your BBQ is one way you can get your guests together. Add comfortable bar stools around the outsides of the countertop. The L-shape will still allow guests the opportunity to mingle because everyone will not be facing the same exact direction. Also, this setup allows you to better mingle with guests while cooking on the grill.
3. Table Lighting Is A Must
If you are going to have an eating area outside sufficient lighting is key in order to enjoy meals past sundown. The last thing you want is to feel rushed with your guests because you are going to run out of daylight. Eating and then clearing a table off in the dark is no easy task and might even result in a few broken dishes!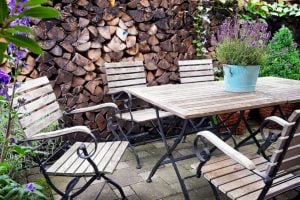 You can have a lot of fun with table lighting. One awesome idea is to create an overhang that extends over the table. Your overhang doesn't need to be fully covered instead you can have an open metal or wood frame with vines twisting throughout. The purpose of this overhang is to give you a space to hang a lighting fixture, such as a chandelier or a string of lights. An umbrella also works if you plan on using string lights. (Reference)
If there are trees nearby you can add tree-ring lights for the perfect amount of light. Adding full lampposts around the outskirts of the table area is another pretty option. In-ground lighting can also work well, while granting a more romantic vibe. Once the table is set and guests are about to arrive don't forget the candles!
4. Add A Source Of Heat
There are going to be some chilly nights when you want to throw a dinner party outside, so how will you keep your guests from catching a chill? Simple, add a source of heat! Heat lamps are one option, as well as a fire pit located close to the dinning area that guests can circulate after dinner but still feel heat from while at the dinning table. You can also add a fire table centerpiece that will bring the heat right into the center of the party. If you go with a fire-based heat source you can use it to stay warm as well as roast marshmallows and s'mores after dinner. 
5. Don't Forget The Flowers
Any outdoor eating area is made complete by just the right amount of greenery. Vines, shady trees, bountiful bushes and pretty flowers will all bring life and beauty to your eating area. Just beware that the plants you pick don't attract any unwanted guests, like pesky bugs that will annoy guests. Research each plant to make sure it is not a source of pollen for bees or food for other insects before planting too close to your outdoor eating area. Also, trees and other plants that shed a lot of small particles can get annoying if they continually blow and end up in people's soup or salad.
Adding planters around the table or even at the center of the table can add an especially nice touch. If you plant a tree in a large planter it can even provide some shade for the table.
6. Table Placement
If you have more than one table at your outdoor dinning area you don't want to cramp the tables up too close together. Sure, close tables may create a more intimate feel but it can also create a rather cramped atmosphere where people feel like everything they say is being overheard by the next table over. Before setting up any tables it's best to uncover how many people you can comfortably seat while still allowing enough space in between tables for guests and servers to freely move about. (Reference)
7. Don't Forget The Trashcans & Toilets!
With dinner comes the need to discard trash, so make sure your eating area has a durable and easy to locate trashcan nearby, but not too nearby. No one wants to get stuck eating dinner right beside a trashcan, especially if it's full and stinky. Place trashcans a considerate number of feet away from the actual dinning space but close enough to locate when needed.
The same can be said for a bathroom, no one wants to eat right next to the bathroom but a bathroom should be within reasonable proximity to the table. The last thing anyone wants is to take a hike in the middle of dinner in order to locate the nearest restroom.
TerraCast Products offers the highest quality planters, benches, trashcans and lighting fixtures you need to make the best outdoor eating area in town. Our specially formulated products never rust, rot, or stain, guaranteed!