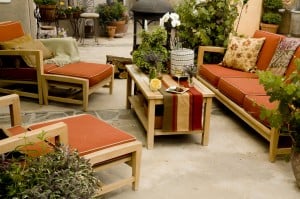 When it comes time to decorate your patio with furniture your options are practically endless. There are countless styles, sizes, and types of furniture to choose from, the only thing holding you back are your own taste and preference. In this blog we detail how to find the best patio furniture, plus tips how to create an outdoor space you are sure to love.
Identifying The Purpose Of Your Patio
Before you ever buy any plants or furniture for your patio, start by brainstorming a list detailing how you will use your patio in the future. For instance, do you plan to throw dinner parties on the deck, kick back and relax with a good book and cup of coffee, or let the dogs hang out here during the day. If you never plan to serve meals out on the patio, don't waste space (or money) setting up a large dining table. Instead, you might only need a swinging chair, some side tables, and a comfy sofa. Once you identify exactly what your patio space will be used for you can better plan for the perfect deck furniture and overall design.
How To Select The Best Patio Furniture Materials
Once you know what type of furniture you need for your deck it's time to consider furniture materials. The materials that you select will greatly influence how well your furniture stands up to the test of time. Redwood or cedar furniture will provide a substantial look and feel, but wood and water don't mix well so you will want a covered patio to carry off the look without worrying over water damage.
Even if water is out of the picture, wood is still susceptible to insects, warping, and decay. Wrought iron is another popular patio furniture material choice, but it is prone to rusting without proper protection. High quality resin patio furniture will stand up to the elements better than anything else, as it does not rust or warp.
When it comes to picking cushions for couches and chairs look for acrylic fabrics that can withstand exposure to sun, rain, and other weather. If your patio is near the pool you will want to be extra careful with the materials you select, as they will be forced to endure far more exposure to water. Our specially formulated resin ensures all of our products can withstand whatever elements hit your patio.
3 Important Qualities To Consider When Buying Patio Furniture
There are a few things you should always be on the lookout for when purchasing great outdoor patio furniture.
1. Make Sure The Furniture Is Comfortable
Don't be tricked into buying patio furniture that is not comfortable to sit on. A chair might look beautiful but if it feels like rocks to sit on, no one will want to lounge on it. Comfortable patio furniture ensures your family and guests actually want to sit back and relax here, allowing your patio to reach its full potential in terms of use.
2. Look For Furniture That Is Easy To Maintain
Patio furniture that is easy to care for and requires little to no maintenance is always ideal. This guarantees your furniture looks great for a long time without costing you excess money and time.
3. Be Picky And Don't Settle For Less Than The Best
Buying any piece of decent looking furniture for your patio is not the best idea. In most cases, you really do get what you pay for. Buying cheap patio furniture might seem like a good idea, but if it quickly tears up it won't do you any favors. Always check consumer reviews and read the small details about how well a certain piece of furniture will hold up before making a purchase.
Patio Furniture Design Ideas
Once your furniture is delivered and ready to go, it's time to start bringing your patio to life. Here are some great ways to dress up patio furniture and make your space look even better:
1. Create A Focal Point
Every space requires a focal point, including your patio. The patio furniture can serve as a great focal point, but will need some help from plants, rugs, and other accessories to really make the space pop.
2. Cozy Up Your Patio With Plenty Of Potted Plants
A patio is simply not complete without an array of pretty plants to keep you company. Since patios are built on concrete, wood, or some other material that does not typically include soil, potted plants are a must in order to create a thriving patio garden.
A mix of bushes, flowers, and small trees can really liven up a patio space and make it come to life. Align plants so that they complement the furniture. Smaller potted plants can line up down the center of your dinning table, while larger potted plants will look nice on either side of a lounge chair.
Before picking the type of flowers you want for your patio, make sure they will flourish under the amount of sunlight your patio receives.
3. Add Patio Lighting
Make sure that your patio has enough lighting to be enjoyed during the day or night. Hanging accent lights, light posts, and tree lights are all great ways to incorporate lighting in a way that adds to your patio's overall style.
4. Add A Fire To The Furniture 
Nothing warms up a patio like a great outdoor fire surrounded by cozy chairs or a plush couch. If you have the space and budget to build a fireplace, this will add a world of charm to your patio, plus provide a natural draw that makes everyone want to gather around.
If you want to add a fire but don't have the right set up for a full fireplace, you can also add a fire pit to the center of your furniture to offer a more rustic, camp-like feel to your patio space. (Get inspired)
Creating The Perfect Patio Space
Get colorful and creative or stick to simple shades of black and white. No matter what you choose your patio space will look amazing with the right attention to detail and high quality crafted furniture and accessories.
Shopping for the best in landscaping products is easy with TerraCast Products! All of our products are made in America using the highest quality materials, detailed craftsmanship, and environmentally friendly production methods.