Good commercial lighting is key to your business for 2 core reasons:
1. Safety and Security
Exterior lighting and parking garage lighting helps people navigate because they can see where they are going. Lighting also offers a feeling of safety so that patrons (and employees) feel safe.
2. Aesthetics
Lighting instantly changes the look of a place. Proper lighting will give your business a nice, professional and welcoming appeal.
Commercial lighting is rapidly changing as new technologies are made available every year, offering you a world of new opportunities when it comes to effectively and efficiently lighting your property.
Lights, Camera, Save Planet Earth
The importance of corporate commercial lighting is highlighted by the fact businesses make up 35% of all light-related energy usage. In an environment nearly crippled by energy hogs it's important that everyone does their part to reduce energy usage.
Thanks to new technologies your business can provide adequate lighting while using less energy than ever before. By simply switching to the most advanced lighting fixtures and controls you can reduce your corporate energy bill for lighting by as much 50%. In fact, energy efficient lighting is known to pay for itself within only a few years.
(Reference)
The following commercial lighting ideas will give you the inspiration to install functional lighting that looks good and saves you money over time.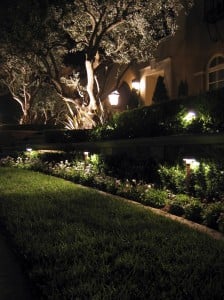 The Buzz About Energy Efficient Outdoors Lighting
Outdoor lighting is just as important as indoor lighting. Outdoor lighting must provide light wherever it is needed. This light should be evenly distributed across the landscape so that they are no dark, shady corners. You also don't want lighting that is obtrusive, or creates a glare of any kind.
You can keep your entire property aglow while reducing your energy usage by switching to energy efficient lighting solutions. The most energy efficient options for outdoor lighting include Electronic HID, T8, T5HO fluorescent and LEDs. The most popular type of efficient outdoor lighting right now is LED.
LED, also known as light emitting diodes, produce a light visible to the naked eye by the process of passing an electrical current through a semiconductor. LED offers a long shelf life, full brightness regardless of temperatures, minimal light trespass, and you can manually control things such as continuous dimming. LED offers an efficient energy option that is much more reliable and affordable than older lighting technologies.
5 Design Ideas For Successful Commercial Landscape Lighting
Lighting is a two-part equation; first you need to find the right fixture and then you need to decide on the right amount of light according to a space and its uses. This is a lot to think about, but it helps if you have lighting samples brought on site. Lighting fixtures are going to look very different in store and online, which is why seeing a sample on your property is invaluable.
Here are 5 landscape lighting design ideas that will make your lighting fixtures stand out in the best way possible:
1. Incorporate Lighting Fixtures In Trees
Do you have trees? If so you can incorporate the beauty of trees with your landscape lighting. Tree ring lighting fits around the trunk of a tree and instantly illuminates the tree and its surroundings. Adding a garden of flowers around the base of a tree equipped with a light ring offers a nice touch because the light from above will keep the flowers glowing even after dark.
We offer the highest quality, longest lasting resin landscape lighting tree rings to light up your property for many years to come.
2. Highlight Entrance, Exit and Other Important Signs
What are the most important focal points you want your patrons and employees to notice? Of course you want customers to easily recognize the entrance and exit signs, but what other important signs or elements do you want to highlight with landscape lighting? For instance lighting can help show off your sign, business logo, or a particular decorative statue or fountain that represents your brand. This is where personalization comes into play and the options are endless.
3. Keep Walkways Well Lit
Where do you need direct lighting and where do you need indirect lighting? When trying to decide this pressing question just focus on the areas that get the most traffic. Wherever people frequent most require bright lighting, less frequented areas are fine with lower lighting. For instance, walkways will get the most traffic and therefore need the most direct lighting to help people safely navigate.
4. Use Nice Looking Lampposts As Decorative Elements
Lighting helps make decorative elements stand out even after the sun goes down, but the actual lighting fixtures can serve as decoration, day or night. Good looking lamp posts make a great accessory to line walkways, adorn either side of a large sign or highlight the front entrance to a gate or door.
The options are endless when working with high quality light posts. The important thing is finding outdoor light posts capable of standing up to the elements. Otherwise you risk ending up with a light post turned rusty eye sore after only a few seasons.
Check out our high quality, resin light posts that are rust and stain-resistant and built to last.
5. Reduce Lighting
If you are changing out your current landscape lighting for a more energy efficient alternative you might be able to reduce the amount of lighting you currently have. Downsizing lighting will naturally decrease your energy bill. Using higher power lighting fixtures or putting lighting in different locations to create a larger span of light from one source are just two ways you can reduce and simultaneously improve commercial lighting.
Making The Investment In Lighting For Today And The Future
It costs money to switch over to more energy efficient lighting systems but it's money well spent, as it will pay for itself in the future. Energy costs are only expected to increase going into the future; the time to create more energy efficient commercial lighting is today.
At TerraCast Products we create state of the art landscape products that are resistant to rust, graffiti, impact and natural elements. Our landscape products are guaranteed to last, helping you save money year after year.