Large flowerpots make quite a statement placed inside or outside. A pretty large container overflowing with an assortment of flowers is eye catching and can serve as a great focal point for your home or corporate landscaping.
Despite how great large flower pots look plenty of things can go wrong when planting a collection of different plants in one oversized pot. These problems don't just arise in the actual day-to-day care of the plants but in the planning and planting process. You need flowers that look good together and also thrive under the same conditions, but that's only the beginning. In order to create the best large flowerpots on the block here are the top 10 tips you need to know.
1. Plan For Your Planters
The most important thing you need to do in order create successful large flowerpots is to plan and do some research. The plants you pick to adorn your pot must jive together in order to thrive together. All plants sharing the same pot should require the same amount of water and sunshine as well as the same soil type. After all, these plants will be sharing the same exact home and conditions every single day.
Another thing to plan for is the eventual size and height of your plants. Your container will look one way when you first plant it but it will take on new shape and dimension as the plants grow. Each plant and its individual root system require adequate space to grow. Overcrowding your pots may look good at first but it will create issues in the future.
Make sure and plan where your planter is going to go before picking out any flowers. Some plants do great living in the shade with little to no sun, while other plants thrive in direct sunlight. Know what your plants need and make sure your planter will be in the appropriate place to give them that.
2. Use Contrasting Textures
If you are going to go through the trouble of picking out different plants for one large planter you should make it count by going for different colors and textures that play well off one another.
Different leaves and flowers come in a variety of textures, ranging to include shiny, waxy, fuzzy, prickly, or velvety. By using contrasting textures the individual qualities of each plant truly stands out. On the contrary, if you use the same textures throughout one large planter it can start to mix together and look too much alike to pop out and catch the eye.
An example of a lovely combination could include the hair-like tuft of lemon yellow grass (ogon), the spiky-lime green succulent known as Angelina, the waxy burgundy leaves associated with Sedum 'Garnet Brocade,' and the lacy details of the Coral Flying Colors diascia.
(Create Planters That Stand Out)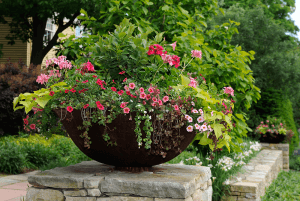 3. Be Bold With Color
The more color the better! People are attracted to splashes of color so make sure your large planters are full of brilliant shades. All plants sharing a container don't need to be a similar shade of pink or purple, instead play around and add greens, pinks, purples, reds, and any other color to one pot.
Creating a central color theme can help you stay on track but don't forget to play around with as many fun accent colors as possible. When picking which color plants you want to use take a look at the color of your porch or any other colors already present on location. Getting creative with color creates awesome results; just make sure everything matches… at least somewhat!
4. Follow The Proven Recipe: Filler, Spiller and Thriller
We have discussed the age-old rule behind good large planter design a number of times on this blog. The best recipe for decorating a large flowerpot remains the same: include filler, spiller and thriller plants in your combination.
Filler plants are generally shorter and wider (horizontal), and often weave in and out between the other plants. Examples of filler plants include coleus, impatiens, heliotrope and osteospermum.
Spillers are plants that cascade over the sides, growing out and over. Great examples of spillers include helichrysum, ipomea, nemesia, or callibrachoa.
Thrillers are typically vertical (upright) plants that stand out taller amongst the other plants. Examples of great thriller plants include upright fuchsia, canna, calla pennisetum, or phormium.
5. Go With Self-Watering Planters
When watering large planters you don't want to mess up or deal with any major issues forming unseen beneath the surface. Traditional large planters may allow large amounts of water to build up at the bottom of the pot, leading to the development of mold and fungus that harms plant roots over time.
Self-watering planters dissolve issues related to moldy roots by storing overflow water in a reserve located separate from the plant and soil at the bottom of the planter. The roots are able to reach down into this reserve and soak up water when needed, this prevents the plant from becoming dehydrated if you forget to water it for a few days, or more.
When planning for corporate landscaping self-watering planters are a huge aid in reducing maintenance and making sure plants always look good.
We offer the highest quality self-watering planters formulated from a specially developed resin that doesn't rust and is even resistant to graffiti and stains.
6. Think Outside Of The Pot, Literally
For planters that truly stand out you want to think outside of the box. A large pot full of roses is pretty, but it's something everyone has already seen before. A unique way to make your large planter look entirely unique is to turn it on its side and have flowers growing inside of it, as well as spilling out and growing beside it.
Another unique way to transform large planters is to grow a bunch of 'filler' plants around the outside edges with one tall 'thriller' plant at the center. This creates a large planter with a 2-level display.
(Pinterest)
Your actual planter is just as important as the plants you put inside. TerraCast Products uses a specially formulated, eco-friendly process to create the highest quality planters currently on the market.