Interior Designers
---
Our resin-based planters provide beautiful accents to your interior design
Most Interior Designers focus on office buildings, hotels, hospitals, lobbies, meeting spaces and conference areas. The tendency is to opt for products made of fiberglass, because it is sleek and lightweight. Fake plants offer the look of lush lobbyscaping without the additional unsightly saucer to protect the floor from drips and leaks.
No one needs to water silk flowers and other types of fake plants, precluding scheduled maintenance, care and the corresponding ongoing costs associated with the tending of tender potted flora. However, fake plants don't make oxygen and they get dusty, real plants are much classier, but live plants drip, the pots leak and someone has to remember to water them!
Want the foliage without the frustration? We've got you covered.
With TerraCast® resin planters, you can have your cake and eat it too; interiorscaping with real plants, but without saucers or maintenance. Intrigued? Read on!
Material
TerraCast® uses a Linear Low Density Polyethylene, which is a type of plastic that is formulated to be the superior option for any kind of outdoor application. It's virtually indestructible, does not chip, crack, corrode and require maintenance or re-painting like other materials. That makes them an ideal fit for any installation. It's non-porous and non-hydroscopic so it's completely impermeable. No need for a saucer, nothing gets through resin.
Products
TerraCast® offers 20 different product lines, each with dozens of items and has hundreds of colors to choose from. We offer an additional interior piece for our planters that make the planters into self-contained, self-watering planters for real plants. Our planter pots are number one in the industry, so you can be number one in yours.
Process
Our products are manufactured using a process called rotational molding. Roto-molding starts with a clamshell mold, in which we pour powdered resin. The mold is sealed shut and goes into a special oven that turns the mold on a bi-axle rotation while it's cooking. The resin melts into the mold from the outside in so each piece comes out evenly colored and detailed with smooth rims, strong corners and perfect edges.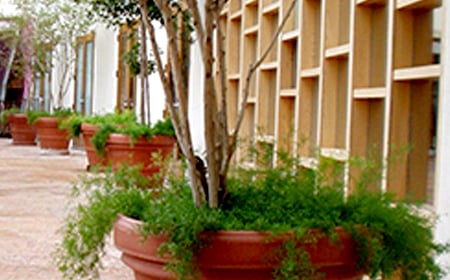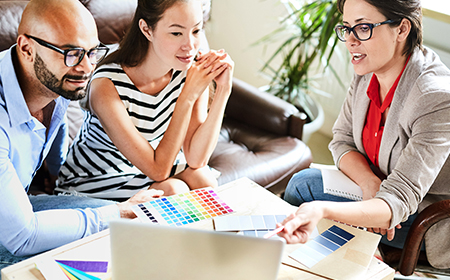 Options
TerraCast® offers many proprietary color blends. You can offer your clients a long list of simple, solid colors or wow them with our faux-stone options.
We have several proprietary faux-stone blends including a beautiful Terracotta blend modeled after actual Italian clay pottery from the 1960s.
Our other faux-stone options are gorgeous granite blends with multi-color speculate in a translucent base for depth and variation.
If you don't see a color in our catalog that calls to you, we can match or create any shade or color you or your client desires, or even design your own unique granite blend.
Availability
TerraCast is here and happy to assist you with your project from the beginning to the end. We can help you from the start, with design and drawing, all the way through planning to shipping and installation. We are here to make sure you get the best options for your client and each specific project.
Experience
We have worked with all types of clients from homeowners to professionals, Engineers, Architects, and Landscape Designers. We can read site designs, blueprints, spec books and CAD documents so we can save you time and money between the idea and the implementation. We understand that you work for your client and working efficiently and effectively to make them happy is your number one priority. We have the experience and the know-how to help you give them the very best.
Pitch
We know you are going to have to present your plan design to your clients for approval and we know the quicker you get approved, the quicker you can start. TerraCast® can assist you with the presentation and offer all kinds of reasons why your client will be impressed with our products.
Savings
Our resin is easier than other materials to work with, so it's less expensive to manufacture. The savings are reflected on the price tag. It's lightweight, so it's less expensive to ship, handle, unload and install. It also boasts unparalleled durability and longevity, requiring no maintenance. You will impress your client by saving them money not just on purchase price, but also on shipping, installation and ownership. Those savings will last for years, during which time your clients will be thrilled with your decision and have plenty of time to sing your praises for your innovative genius.
Green
Our resin is made with up to 100% post-consumer recycled material (darker shades are higher percentages PCRM) and qualify for LEED credits. Impress your clients with your choices that save money AND the environment!
Browse
Take a look through our installation shots, CAD drawings, offerings on our catalog and online library . Call us to talk about how we can help you shine!