Landscape Designers
---
TerraCast® works with Landscape Designers to optimize your landscape.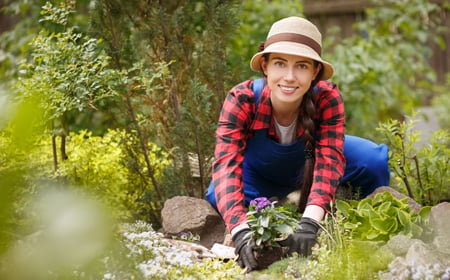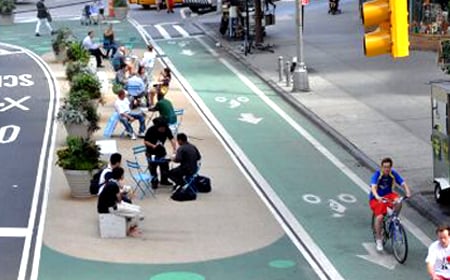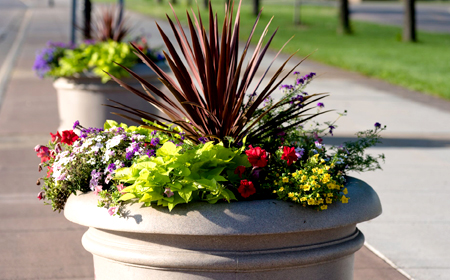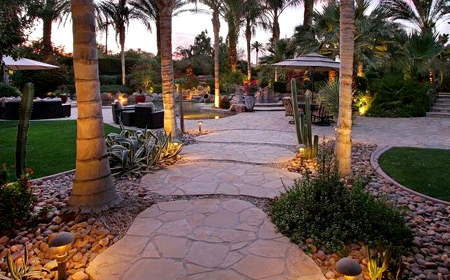 When you arrive at a location you're unfamiliar with, before parking and exiting your vehicle, you see the outside area leading to the entrance. Landscape Designers create the "curb appeal" of outdoor areas like lawns and courtyards for office buildings, hospitals, hotels and community areas like parks, great lawns or private neighborhood entrances and common areas. This is where we come in. TerraCast® resin planters, light poles and site furnishings are the best option for these outdoor installations. Our products are designed to be outside for years without losing strength or beauty, with an ease of ownership unmatched by any other material or product. They are formulated and designed to be outside in the sun and the elements indefinitely without a care in the world, including regular maintenance.
Products
Our current offerings include more than 70 items in 20 product lines, in hundreds of colors. Our planters, light poles, and site furnishings are number one in the industry, so you can be number one in yours.
Material
TerraCast® uses a Linear Low Density Polyethylene, which is a type of plastic that is formulated to be the superior option for any kind of outdoor application. It's virtually indestructible and does not chip, crack, corrode or require maintenance like other materials. This makes resin an ideal fit for any installation.
Process
Our products are made by pouring a powdered resin base into a clamshell style mold, cooked in a special oven while turning on a bi-axle rotation. Rotational molding is a superior method for producing numerous identical items because the outermost layer is formed. As the mold turns and heats, the resin melts into the mold from the outside in so each piece comes out uniformly colored and detailed with strong corners, smooth rims, and perfect edges.
Options
We have dozens of proprietary color blends to choose from. We also blend in a UV inhibitor right in with the colors, giving our products long lasting protection against fading or bleaching in the sun. Impress your clients with a wide range of simple, solid colors. We offer several proprietary faux-stone blends; a gorgeous, authentic looking, perfectly blend of Terracotta and several granite blends with multi-colors of speculate blended in for dynamic variation and depth. If you don't see one you like in our catalog, we can match or create any shade, color, or even your own unique granite blend for you.
Availability
TerraCast® is ready, willing and able to assist you with your project from the beginning to the end. We can help you with the design, drawing, planning, shipping and installation. We are here to make sure you get the best option for your particular project and client.
Experience
We have worked with all kinds of customers from homeowners to Architects, Engineers, General Contractors, Interior Designers and Landscape Designers. We can read blueprints, site designs, spec books and CAD documents so we can save you time and money between the idea and the implementation.
Pitch
We know you are going to have to present your plan design to your clients for approval and we know the sooner you get approved, the sooner you can start. TerraCast® can assist you with the presentation and offer all kinds of reasons why your client will be impressed with our products.
Savings
Our resin has a smaller price tag than any other material. It's easier to work with so it's less expensive to make. It's lightweight so it's less expensive to ship, handle, unload and install. It also boasts unparalleled longevity and durability, so it requires no maintenance. You and your clients save on purchasing, shipping, installation and care, with savings that will last for years.
Green
Our resin is made with up to 100% post-consumer recycled material (depending on the color, darker shades are higher percentages PCRM ) and qualify for LEED credits. Your clients will be pleased to know that they are saving money AND the environment!
Graffiti Resistant
Our resin is non-porous, which means spray paint, marker and other stains will come right off with simple household cleaning solution and a scrub brush. Other materials, such as concrete or fiberglass, would need to be sanded and/or painted over to rid them of these markings, but our LLDPE Resin shrugs it right off.
Browse
Take a look through our installation shots, CAD drawings and offerings in our catalog and online library. Make sure to check out our Tree Rings. Then give us a call to find out how we can help you with your next project!