Lightweight for Easy Installation
---
Resin planters, bases and light poles are much easier to install than their predecessors.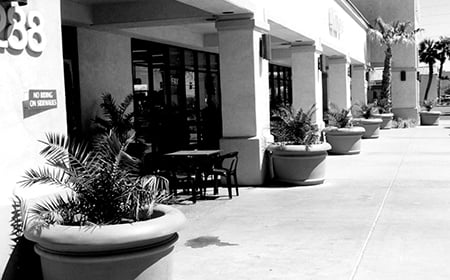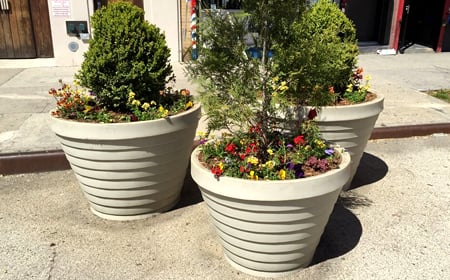 One of the things that make TerraCast® products so advantageous over other products is that it's very lightweight for installation.
Why is that so important?
It means that TerraCast® products, planters, light pole bases, and lampposts, are 50%-90% lighter to ship than a similar piece made of fiberglass, clay or stone. That translates into savings on logistics, transport, handling and installation. Lightweight materials consume less energy to transport and increase vehicle efficiency, which means they have a less environmental impact. In today's world where there are intensified focus on sustainability, choosing lightweight materials is an important step in decreasing carbon footprint during transit.
Lighter
A stone or clay product is very heavy and more difficult to handle. It requires more padding and packing, and there's still a chance it will be damaged during transit. A damage product costs much more when returning and exchanging it, than just the shipping. In addition, rescheduling a construction crew for installation can be quite costly.
TerraCast®'s products are a fraction of the weight of stone, clay or metal, so our pieces are not difficult for the shipping crews to work with. There's no need to hire secondary crews and rent heavy equipment and it's virtually indestructible. Unlike stone or clay, the chances that a TerraCast® product would arrive at your site with cracks and damage from shipping and handling are slim to none.
Easier
When it's time to take it off the truck and arrange it on your site, one or two people can unload and install even the largest planter. Additionally, 12-foot lampposts can be unloaded from the shipping truck installed in the same fashion without any difficulty. No need to hire a crew or rent equipment. This is particularly beneficial for installations on public streets, where road closures may be required until work is completed. With TerraCast® resin products, it only takes a fraction of the time to install, thus minimizing the time needed for road closure.
Higher
TerraCast® products excel in rooftop gardening as well. Rooftops are engineered and built with a set weight limit and load capacity, so every pound counts. If you wanted to design a beautiful roof-scape for your building and still have wiggle room between your weight load and safe capacity limit, TerraCast® is the only way to go. TerraCast®'s lightweight construction saves you money from the factory all the way to your site. Save time, money, energy and resources from the ground all the way up to the sky.