Going green isn't just the way of the future, it's the only way into the future. These 7 green business landscaping tips will improve overall efficiency and help the long-term survival of the environment.
Without more sustainable ways of running small and large businesses our fragile ecosystem will eventually break, as could your entire business. Landscaping might not seem like too big a deal but you might be surprised how much of an impact it can have on your business and overall productivity.
Better looking landscaping is known to attract more customers and keep employee moral higher, two things that can automatically generate more efficiency as well as profits.
There are old and outdated ways of doing things and then there are fresh new ideas that make greener business possible. We can help you easily implement any of these business solutions to help make your workforce more efficient and your environmental impact lighter.   
1. Add Greenery To Your Business
Flowers and greenery are not just beautiful they are actually good for everyone that sees them. Overall employee moral is proven to improve when people work in a nice looking space that is landscaped with lush flowers and trees. When employees are happy with their office space they are going to work harder, making your business more efficient. Employees are the backbone of any brand and if you want the happiest workforce in town greenery is a must.
Adding potted plants around the office and outdoor landscaping will not only improve employee moral but it will also help to attract more customers—a win-win for your business.
You might not have adequate soil or space to plant directly into the ground, which is where small and large planters come in handy. Planters of varying sizes and styles give you the chance to put a touch of greenery anywhere. 
2. Get Rid Of Old Lighting And Add LED Lighting
If you are using old-school lighting you are wasting a whole lot of money and time. Older forms of lighting are energy hogs, and this shows on your monthly bill. Plus, newer technologies have found ways to make lighting last longer so that you don't need to replace bulbs and fixtures as often.
Installing new LED lighting is proven to pay for itself within only a few short years, or less in some cases. With high-tech lighting come awesome design options as well, including in-ground lights, tree-ring lights and beautiful lampposts.
3. Go With Resin Materials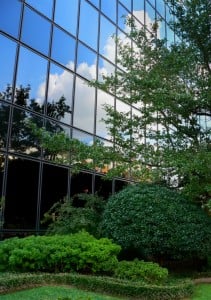 When it comes to trashcans, planters, benches and lighting fixtures (both indoors and outdoors) you can do it the right way from the get-go or you can do it again and again. Many outdoor products are not made to withstand the elements and will break down much sooner than expected. You've got a business to run and so the last thing you need to worry about is redoing landscaping, lighting or purchasing new planters.
Our high quality resin-based products are hassle and worry-free. They don't chip, rust or stain, not even graffiti can ruin our hardcore products. Why else would New York's Time Square be decorated with our planters? Simple, once you add our products to your property you don't have to replace them. If you don't have to worry about replacing things here and there you can put more energy into the bottom line of your business and run a more efficient workforce.
4. Use Native Landscaping Plants
Beautiful landscaping can be a lot of work or very little work; it all depends on what types of plants you go with. Switching to native landscaping plants will reduce your water bill as well as the efforts exerted to keep your plants alive and flourishing.
Native plants are meant to blossom in your environment without much added assistance. By reducing the amount of water you have to use you are already reducing your ecological footprint as well as your water bill. So what are you waiting for? If you want pretty landscaping without all the hassles there's nothing better than native plants. 
5. Become LEED Certified
If you want to officially join the green movement you can become LEED certified, Leadership in Energy & Environmental Design. This internationally recognized certification is awarded and regulated through the U.S. Green Building Council. If you are LEED certified your business is recognized for utilizing the best-in-class 'green' building strategies.
Going green reduces waste and increases productivity, so while it might take some work to earn the accreditation it will be well worth it in the end. Plus, the public enjoys doing business with those that are working to protect the environment, giving you an extra leg up in the competition especially in regards to the eco-friendly market (which is rapidly growing). To learn more about obtaining your LEED certificate visit this page: https://www.terracastproducts.com/how-to-become-leed-certified/
6. Add Edible Plants To Landscaping
Edible plants are not just for residential homes, your business can benefit from yummy foliage as well. Adding edible plants or fruit trees to your landscaping will make all employees happy as they are welcome to take home lemons, oranges, or whatever your plants produce. Happy employees do better work, no buts about it! Adding trees that flourish with edible fruits and vegetables gives your employees an extra special perk, while also making your business landscaping look better.
Including both residential and corporate locations, the National Gardening Association (NGA) reported a 19% increase in people adding their own gardens to landscaping. On top of that, 1 out of every 5 people plans to start their own garden within the next year. (Read More about latest trends)
7. Go With Lightweight Planters
Planters are commonly used to adorn business landscaping but not all planters are created equal. Large planters can be incredibly heavy and once you add water, soil and growing plants to the mix… well, good luck moving it later! Purchasing lightweight planters ensures lower shipping costs upon delivery. Plus, when the time comes to move a planter it will not take as much manpower to do so. Saving your business money and hassle now and in the future.
TerraCast Products can help improve business efficiency with our green, durable, lightweight and indestructible landscaping products. If you never want to replace your planters, lighting fixtures, benches, or trashcans again, look no further!