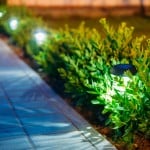 Eco-friendly landscaping is all about durability, innovation and design. As a result you score a more functional, low-maintenance space and help save the planet.
The popularity of going green is only getting stronger, but the planet hasn't taken a sigh of relief just yet. We still have a long way to go to turn around the damage we have already caused using more traditional building processes.
Traditional building and landscaping plans rely on carelessly slapping together a bunch of different materials that may or may not work well together. The end result may look good, but isn't guaranteed to last, and may harm local communities and wildlife habitats around the world.
On the other hand, eco-friendly landscaping and building methods are meant to last year after year, reduce strain on local and global habitats, as well as be low maintenance and efficient in regards to resources, such as energy and water. This sort of project requires more thought and innovation, but the results are sure to pay you back. 
Here are 7 green building tips to create more eco-friendly landscaping.
Purchase Long Lasting Landscaping Materials & Site Furnishings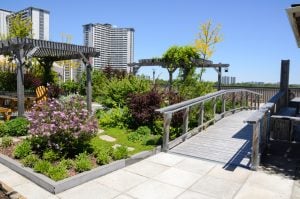 If you install light posts made of metal that rust within a year, you now have to replace materials you just bought. This creates a surplus of waste and additional manufacturing pollution. Save you and the planet from the hassle by sourcing products meant to last years out in the elements.
There's nothing on the market capable of enduring everything the world throws its way like TerraCast Products. We build the toughest resin-based material in the world—no, really. We've literally thrown our planters from rooftops and seen them hit by cars, and they still don't break! We are so confident in the durability of our product we even offer a 10-year limited warranty. 
We strive to use green manufacturing processes in every way possible in order to create a cleaner product with less negative impact on the environment. TerraCast Products produces a 100% Post Consumer Recycled black planter, and all of the other colored Terracast Planters are recyclable once no longer in use.
For all these reasons and more, we remain the leading choice amongst green-conscious architects, cities, residential developers and more.
Build A Green Living Roof
Green roofs are not just for hippies or people living in Germany anymore. In fact, green roofs are becoming increasingly popular in the US. In order to create a green roof, you must first check with a building engineer to ensure your roof is capable of supporting the weight of a living roof. If it is, the roof will be covered in a waterproofing layer before soil and plants are added directly on top.
There are different types of living roofs, some take up a small space and others take up the entire stretch of the roof. An all sod roof could last as long as 900-years! Not to mention, living roofs help regulate indoor temperature for decreased energy usage. You could also use your living roof to capture rainwater in large barrels. This water can then be used on landscaping to reduce waste and your water bill.
Preserve Local Trees
If you are building around native trees it's important to leave as many in place as possible. Just don't forget to leave room for the roots as well. Not only do native trees add free beauty, privacy and shade to your property, but also they are good for your health. To prevent damaging extensive root systems, put up portable fencing around tree borders prior to construction, careful to give enough room for outstretched root systems.
Use Native Plants For Landscaping
Native plants are the perfect way to reduce overall maintenance and plant failure rates. Native plants are meant to grow in your area, meaning they are low maintenance and capable of withstanding pretty much anything the weather throws their way. Hardy rules supreme when you are covering a vast or small amount of space; which is why there is no better option than native plants. 
Plant Appropriately
Even native plants will fail to thrive if placed in an inadequate location to their needs. If a plant needs 70% sunshine throughout the day, you don't want to put it in an area that is shaded 80% of the day. This will end in a lot of dead foliage you have to clean up and replant. There's a plant suited to every environment, just make sure to do the research up front and plant appropriately.   
Get LEED Approved
If you go above and beyond sourcing eco-friendly options for your landscaping and/or building project, you have the option to apply for LEED Certification. LEED stands for Leadership in Energy & Environmental Design. In order to meet LEED requirements, a third-party is assigned to evaluate practices and materials to determine if requirements for sustainable practices are met or not.
LEED Certification is based on a point system. The smaller the disturbance to the land, the more points you receive towards your project. Every last detail is important when applying for this type of accreditation, including the way a building faces on the lot and the type of trees you plant or uproot.   
The goal of LEED Certification is to reward those that create landscaping that plays well with its natural surroundings and has a minimum impact on the environment. Projects must be focused on durability and low-maintenance, as well as creating something hardy enough to withstand even the worst weather in the area.
Learn More Here: www.usgbc.org
Go With TerraCast Products
TerraCast Products is leading the way with our one-of-a-kind eco-friendly site furnishings including planters, benches, light posts, receptacles and more. When you buy something from us, you know it's going to last a really long time. As a result, the environmental footprint of your project decreases—and for that, the whole world thanks you! 
Learn more about going green with TerraCast here: Go Green With Resin.