Light Post Bases
---
If you can't replace it, re-base it!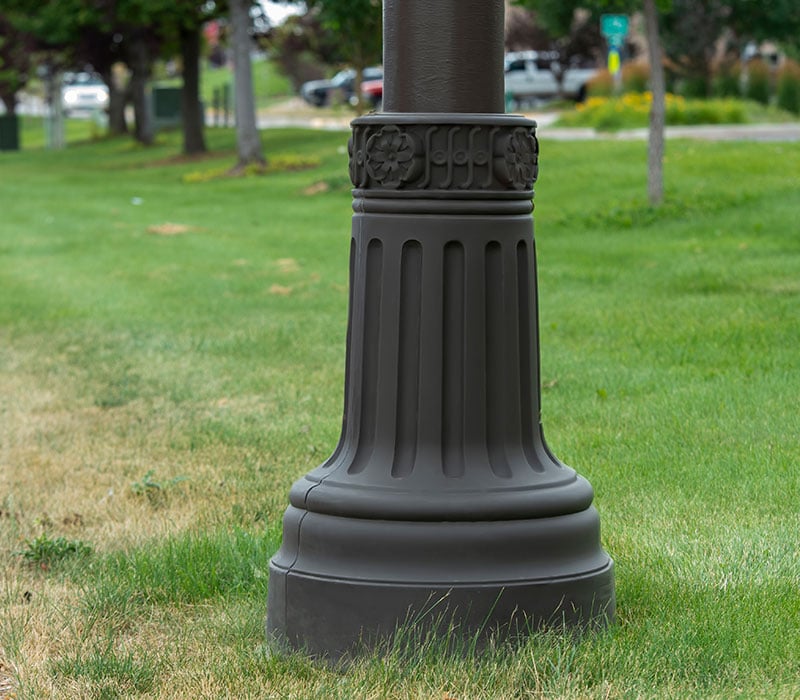 High Quality Light Pole Bases
Generally speaking, the base of a traditional light pole has seams and the inside of the base is not powder coated or enamel finished. That's where salt and moisture in the air gets in and corrosion begins. At TerraCast®, we know that you can't always go on a replacing spree just because you found a superior product. Like cell phones, you have to wait until it makes sense to invest in the new model. That's why we offer a line of resin pole bases.
Our resin lamppost base affixes easily to your existing light pole to protect the vulnerable spots at the bottom, where moisture seeps in, creating an entry point for corrosion. Our bases can easily affix to your current light pole to protect the metal pole and base. Though not designed to reverse the effects of corrosion, our bases are excellent at eliminating additional entry points.
Reliability
Weather Resistant
Lightweight
Resin Lamp Post Base Styles
---
The look and style of a lamp post can be drastically affected by the design of a lamp post base. We carry a wide variety of resin based styles to suite the aesthetic that you are going for.
Aluminum Lamp Post Base Styles
---
Along with the resin lamp post base styles, we stock an inventory of designer lamp post bases made of aluminum. Beautify your cityscape with the many varieties that we carry of aluminum lamp post bases.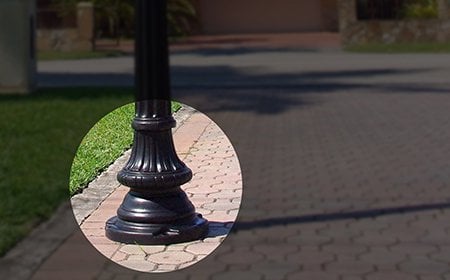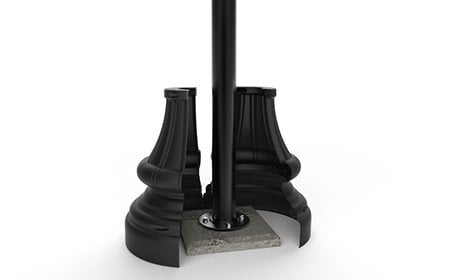 Style
Our Madison style lamppost base can accommodate any standard 3 or 5-inch diameter poles. We have two types of modification base options, Clamshell and Drop-Over. The clamshell resin base piece hinges open to fit around the bottom of your existing pole. It secures shut with a threaded locking mechanism. The drop-over style base is one piece. You take the luminaire light fixture, sign or finial off the top of your existing pole, slide the drop-over base down, and replace the light, sign or topper.
If you'd like to re-think your luminaires, while you're at it, we can help you with that!
Simple changes, like bases and luminaires, can upgrade the look of the pole and the entire area. A base change is a quick option for a facelift to provide a dramatic difference, while protecting your existing light poles and prolonging the process of renovation or replacement for as long as possible.
We also have access to a complete line of cast aluminum bases that can clamshell around your existing aluminum light pole. Although it goes against what we generally preach, the customer is always right, and we strive to provide superior service!