Products for Parks & Recreation
---
Our product lines can be tailored for your specific parks and rec needs.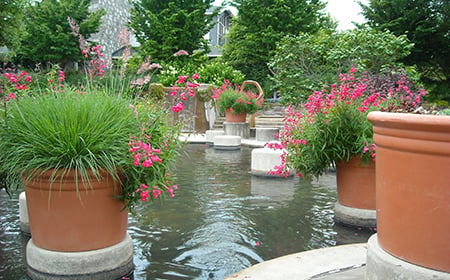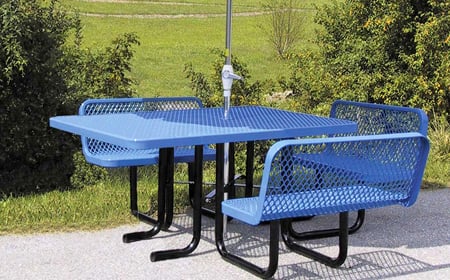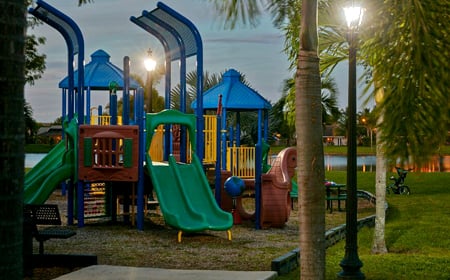 TerraCast® products are ideal for Parks and Recreational areas. From planters to lighting and site furnishings, we have the products to optimize and beautify your space. The quality of our products will keep residents happy. The savings in price, and the maintenance free ownership over time, will satisfy your budget.
Material
Our Resin is formulated from LLDPE (Linear Low Density Polyethylene). It's a type of plastic that is designed for outdoor applications. It's lightweight, long-lived, and virtually impervious to damage from normal wear and tear and living outside. LLDPE Resin may already be in your park, as a playground slide or trash can.
Our Lamp Posts and Bollards are all crafted with a support core of galvanized steel or fiberglass, which is carefully enrobed in a layer of polyurethane foam, and then encased, with a quarter-inch-thick outer skin of LLDPE Resin. The core is totally isolated and protected from the elements and the corresponding corrosion.
All of our products come in a variety of colors, shapes, sizes, and options, and are further customizable. We can brand items with your city, neighborhood, or park name, logo, or other message.
Durable
Our metal site furnishings sport a futuristic thermoplastic skin, to protect the structure from corrosion. Our wood site furnishings are carefully finished to protect against rot, and their metal elements are meticulously coated to protect from rust.
Our resin products are completely impervious to rust and corrosion. It's non-porous and non-hygdoscopic, so nothing sticks to it, and nothing gets through it. It will never crack, chip, peel, fade, rust, corrode or rot.
All of our products clean up easily. Any plastic-appropriate grocery store cleaner, like Mr. Clean Magic Eraser, is fine. Stubborn marks like spray paint will come off with a pressure washer. The thermoplastic skin on our site furnishings cleans up well with WD-40 or Goo-Gone. Our products will never need re-painting or any other kind of regular maintenance.
Economical
Resin is extremely lightweight, so it ships, handles, delivers and installs for less money and trouble than other heavier materials. Our products are designed to last, and are backed with varying warranties, depending on the item. You'll go for years before ever having to even change a light bulb, because we lamp all of our lighting products with LED bulbs, which outlive any other kind, and they are customizable as well, from brightness to color temperature.
Environmental
TerraCast® is committed to the health and well being of the planet. We use recycled material to craft our Resin. Up to 100% post-consumer recycled materials are used, depending on the color choice. Darker is greener. Also, our Resin products never need to go in a landfill. They can all be melted down, re-pulverized, and reincarnated into the next generation of plastic and resin products.
We also use sustainable practices in our factories, such as natural gas for our ovens and reclaimed water for our cooling chambers. Our Resin products qualify for LEED credits which are defined by The US Green Building Council. You can save green by going green, and we can help!
Made in USA
All of our products are made in the USA. Our factories all stand on US soil, employ tax-paying citizens, and use domestic materials to craft quality products. Contracting with TerraCast® is contracting American, which fuels our American way of life, our American economy, and the American dream.