The Material – Textures & Blends
---
Our unique blends of resin are formulated to match stone and metal finishes.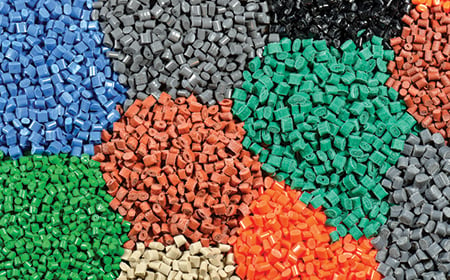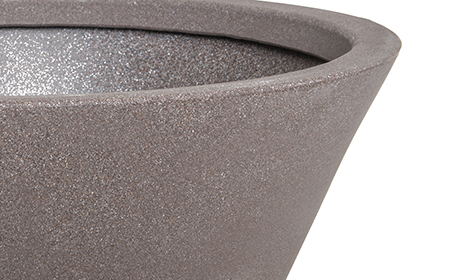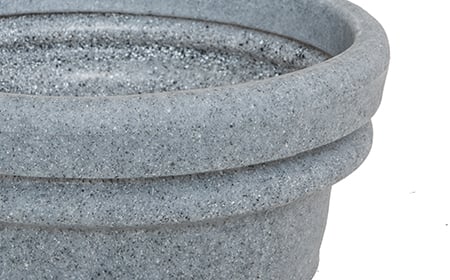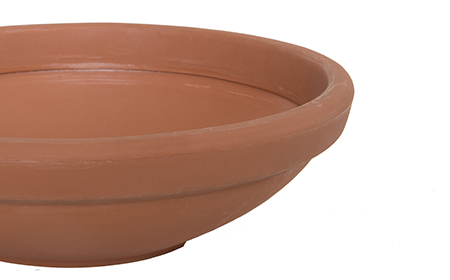 Our Linear Low Density Polyethylene is a member of the plastic family that comes to us in pellet form. We put it into a pulverizer where it's turned into a fine powder. Scientifically engineered colors, blends, and UV inhibitors are then added to protect it.
Colors
Our proprietary Terracotta color blend has a weathered, "lived-in" look. Similar to the concept of "stonewashed" jeans, people like the comfortable feel of the painted Terracotta.
Our products don't actually become weathered or faded, so we give it the feel and the "lived in" look from the beginning. The day you install a TerraCast® Terracotta planter it looks like you've had it forever, and after it's been there many years; it will look exactly the same.
Our Terracotta blend is actually several colors composed of various oranges and reds that allow the look and elegance of fine Italian pottery, with a price tag and availability to satisfy your budget.
Granite
We have several proprietary granite blends for a natural stone finish that looks exactly like real stone.
Our founder, Bob Grossman, started this company after he ordered some fine Italian clay Terracotta and used pieces direct from Italy as a model to replicate for his business line. That's why our products have such a wonderful, traditional look and feel; they're molded after original Italian pottery.
Science
Presently, the actual science involved for coloring molecules and adding pigment allows teams of scientists to take the utmost care to ensure that our color blends are unrivaled in faux stone quality.
For our granite planters we use a combination of colors with speculate blended into the slightly translucent base color. The Verde Granite blend, for instance, is a green base with specks of other shades of green, white and black to make the texture vibrant just like original granite. Our faux-stone color options include Ash Granite, Sandstone Granite, and Verde Granite.
Customize
We can create custom color blends for your company, city, or home. Whether we're matching or creating something new, you can have your very own granite or color blend. Our color specialists ensure that each color is perfectly matched and tailored to you.
Green
Our manufacturing process and practices are Eco-friendly. We use natural gas to heat our mold ovens and reclaimed water in our cooling chambers. Even the resin itself is green, the darker color blends use up to 100% post-consumer recycled materials.
Composite
Our PolySteel™ lampposts are the product of a trademark process. PolySteel™ is a galvanized steel core, a thick casing of polyurethane foam and a quarter-inch resin outer shell.
The roto-molded resin shell eliminates the need for maintenance that other products need and contributes all of the benefits of structural steel with no vulnerabilities of the baked enamel or powder finish.