Products for Shopping Centers
---
Improve the shopping experience by adorning your property with our products.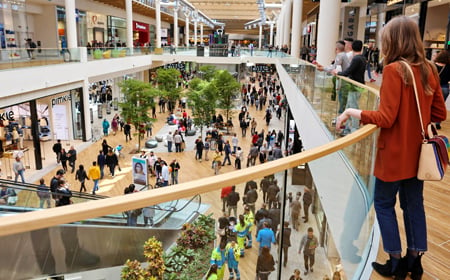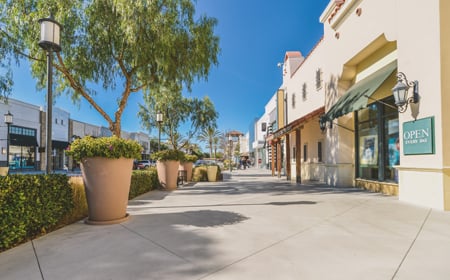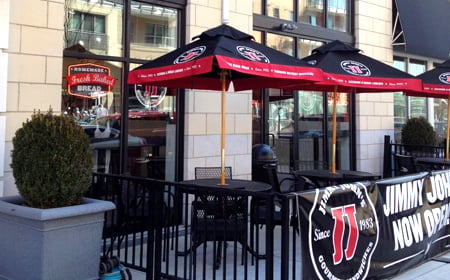 TerraCast® products are ideal for Shopping Centers. From brandable planters and site furnishings, to efficient LED lighting, we have the products to optimize and beautify your space that will make a positive impact on your shoppers, and your budget.
Material
We craft our products using LLDPE (Linear Low Density Polyethylene). A member of the plastic family, LLDPE is formulated to be outside. It's virtually impervious to damage from the elements and weather, and it's extremely durable and long lasting. In fact, your shopping center may already have some Resin installed. Look at the trash cans, the planters. Resin is everywhere.
All of our Lamp Posts and Bollards are built as a three-part structure, a true composite. The core is crafted with either galvanized steel or fiberglass, for strength. We encase that structural core in polyurethane foam, a thick layer where the shape is created. We finish with a quarter-inch of LLDPE Resin, which protects the inner layers. The core is completely isolated, preventing the possibility of corrosion.
Our products are all fully customizable. Choose your color, shape, size, and custom branding. We can craft your products with your logo, insignia, plaza name or other design.
Durable
Our metal site furnishings are protected from corrosion by a futuristic thermoplastic skin. We carefully finish the wood and powder coat the metal elements on our wood site furnishings to fight rot and rust.
LLDPE is completely impervious to corrosion of any kind. It's non-porous, so nothing adheres to it; and it's non-hydroscopic, so nothing seeps into it. Resin will never crack, chip, peel, fade or corrode.
Another feature of all of our products is easy cleanup. Clean Resin with Mr. Clean Magic Eraser, or any other cleaner for plastics. If it's a stubborn mark, like spray-paint, a pressure cleaner will do it.
Our site furnishings' thermoplastic skin is easily cleaned with WD-40 or Goo-Gone.
None of our products require painting or any regular maintenance.
Economical
Because LLDPE is lightweight, it's less expensive to ship, handle, deliver and install. We design our products to last, and we back them with varying warranties, depending on the type of product. We lamp all of our lighting products with LED bulbs, so it will be years before a light bulb even needs to be changed. LED bulbs outlive all other bulbs, and they're customizable, from brightness to color temperature.
Environmental
TerraCast® is committed to the environment. We use recycled materials in our Resin, up to 100%, depending on the color chosen. LLDPE is recyclable again, so our products should never end up in a landfill, they can all be melted down, made back into powder, and reincarnated into the next generation of Resin products. Our factories practice sustainability, with natural gas ovens and reclaimed water in the cooling chambers. Your shopping center will earn LEED credits for installing TerraCast® Resin products. We can help your shopping center save green AND go green!
Made in USA
Every product we offer is made in the USA. TerraCast® is an all-American company, born and raised on US Soil. All of our factories are on US soil and domestic materials are used exclusively in our Resin. Contracting with TerraCast® is contracting American, fueling our great nation's economy, way of life, and the American dream.