Products for Municipalities
---
Create a great sense of atmosphere while saving money for your community.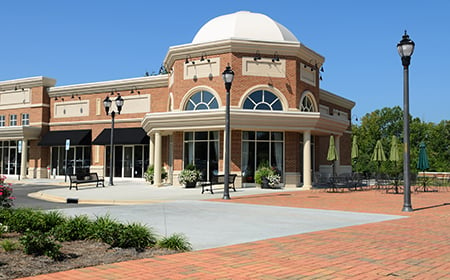 TerraCast® products are ideal for Cities and Municipalities. From planters to lighting and site furnishings, we have the solutions to optimize and beautify your public areas and pedestrian plazas that will keep residents happy. The zero-maintenance, easy care products and savings in price and ownership will satisfy your budget.
Material
TerraCast® uses LLDPE (Linear Low Density Polyethylene), to formulate our Resin. LLDPE is the best kind of plastic for outdoor applications because it's lightweight, extremely durable, and impervious to corrosion and other damage from the elements.
Your city or municipality may already feature Resin products. Look at the playground slide in your community park, or the trashcans in your pedestrian plazas. Resin is everywhere.
We can tailor all of our products to suit your municipality. Choose from a rainbow of colors, different shapes, sizes and options, and custom branding. We can customize all of our products with your city logo, municipality name or special message, in up to 4 colors.
Durable
We take great care to protect our metal and wood site furnishings from corrosion, rust and rot. The wood is carefully sealed and finished. The metal elements on the wood furnishings are meticulously coated. The all-metal furnishings have an outer skin of futuristic, super-durable and easy-to-clean thermoplastic.
Resin is completely impervious to rust, corrosion and rot. It won't fade, stain, or discolor. LLDPE is non-porous, so things don't stick to it, and it's non-hydroscopic, which means it doesn't allow anything to seep in. Every product we sell is easily cleaned. Any cleaner for plastics, like Mr. Clean Magic Eraser, is fine for Resin. If there's spray paint or other stubborn stains on your Resin, use a pressure washer to take it off. WD-40 or Goo-Gone makes for easy cleanup on the thermoplastic skinned site furnishings. No TerraCast® product will ever require painting or ongoing maintenance.
Economical
The money and work that goes into shipping, handling, delivery and installation is much less with Resin than other materials, because LLDPE is so lightweight. Our products are made for longevity, and are backed with varying warranties according to product line. We use LED bulbs in all of our lighting products, so you won't have to even change a light bulb for years. We can customize the brightness and color temperature of your LED bulbs as well.
Environmental
TerraCast is committed to the environment and the planet. Your municipality or city will be pleased to know that all of our products contain post-consumer recycled materials, up to 100% in the darker colors. An additional benefit of LLDPE is that it's recyclable, over and over, so Resin products never need to end up in a landfill. They are melted down, re-pulverized, and reincarnated into a new product for the next generation.
Our factories operate with sustainable practices. Our ovens use natural gas and our cooling chambers use reclaimed water.
TerraCast®'s resin products help facilitate architects, cities and developers to earn LEED credits, which are determined by set criteria established by the US Green Building Council's Sustainable Sites Initiative.
We can save your municipality some green, while helping it to go green!
Made in USA
All of our products are made in the USA. We are an American-born and bred company, we employ tax-paying citizens and we use domestic made materials to craft our products. All of our factories, warehouses, shipping centers and offices are on US soil. When you contract with TerraCast, you are contracting American, fueling the American economy, the American way of life, and the American dream.