PolySteel™ vs. Metal
---
Metal rusts, corrodes and chips. PolySteel™ doesn't.
TerraCast® has a trademarked process called PolySteel™ that we use to build our resin-blended lampposts.
PolySteel™
We use a unique proprietary blend of resin combined with galvanized steel, and industrial plastic foam. This combination creates a superior light pole that is impervious to the environmental elements to which every other material is vulnerable.
Our resin products are made by rotational molding, that allows us to create an exceptionally strong pole.
We start with a core of galvanized steel, for strength. That core is carefully and thoroughly encased in a thick layer of polyurethane foam, another light plastic, which isolates the core and gives the piece its general shape. The outer skin is a quarter-inch of Linear Low Density Polyethylene, or LLDPE, which makes the final shape and detailing. The finished product is a light pole that is impervious to the elements.
Many elements will cause a traditional steel or aluminum light pole to begin losing integrity. Our poles are not susceptible to corrosion or pet waste that causes decomposition. Another problematic aspect to metal poles, are thieves who steal loose metal parts for scrap. Since our resin poles do not have any outer metal, we avoid thieves damaging the look of our posts. Our PolySteel™ composite light poles stand tall in the face of abuses that other products are victim to.
True Composite
Our three-part process forms a true composite light pole:
1. Strong Core
2. Thick protective layer of polyurethane
3. Outer skin of indestructible resin
The end result is a beautiful, decorative, tapered and fluted line of light poles that are impervious to damage that plague other types of light poles.
Customizable
Our PolySteel™ light poles come in standard sizes ranging from 7 to 16 feet. We are delighted to design and create custom items for any kind of client, from private homeowners to civil organizations or corporate entities.
We can create custom colors, sizes and styles to fit your site design. We can even match a color to go with your existing space. Contact us to discuss your design ideas with our staff.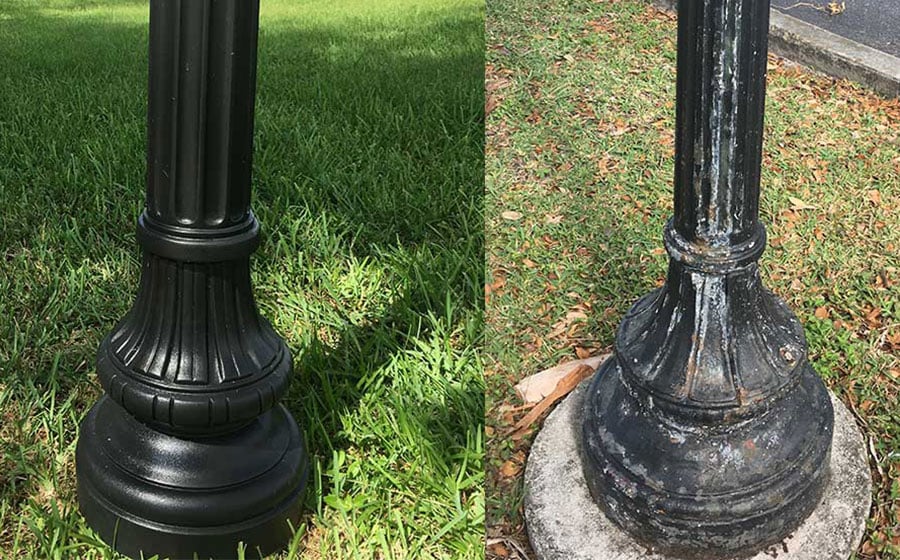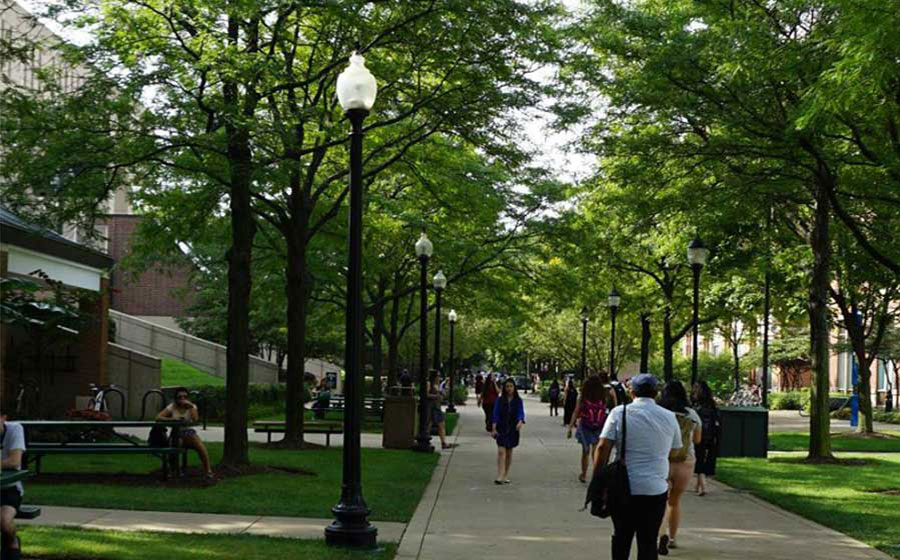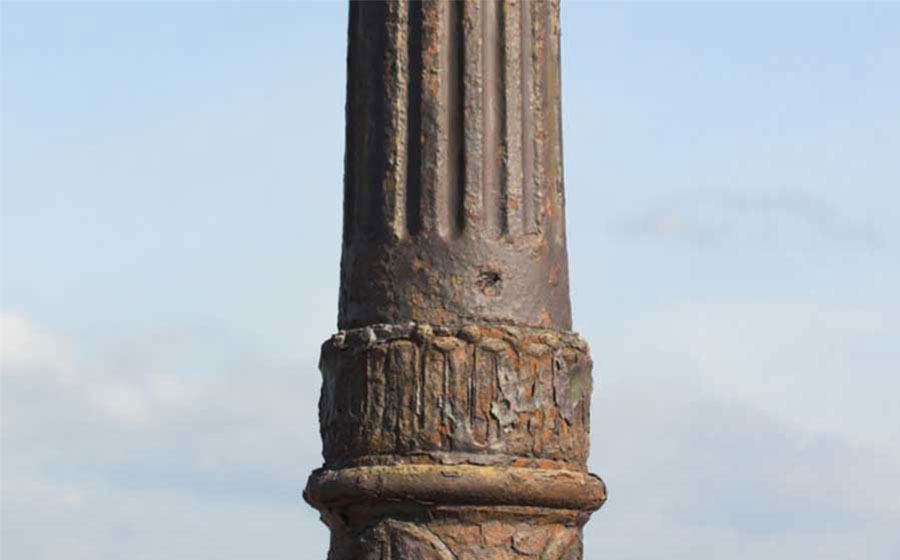 Durable
It is generally difficult to get things to stick to polyethylene, so our PolySteel™ poles are graffiti resistant. The nature of the material prevents the necessity of re-painting or re-coating with enamel or epoxy to reinforce it against weather.
If you were to scratch, cut, or scrape or dent a PolySteel™ Pole, you would find that the color blend permeates throughout the piece, which will not cause any discoloration.
Corrosion Proof
A traditional metal pole has a thin layer of baked enamel or powder coat, which eventually shows cracks, scrapes and cuts. Those small damages create an entry point for the invasion of rust and corrosion, compromising the entire product.
The problem with a powder-coated or enamel-baked pole is that after the outer coating suffers any damage that penetrates through to the metal, the structural integrity of the entire pole is compromised from one that one small injury.
Impervious
Once corrosion begins, it cannot be stopped, slowed or reversed. It can eat through the entire body of the light pole causing weakness, leading to further damage. If left unchecked, the pole could break during a storm, for example, and create further damage or injury.
The base is the most problematic area of a light pole. Traditional light poles use a clamshell style base, making it prone to corrosion and rotting from dog urine, landscapers weed-whacking, and other small injuries to the exterior coating. Also, salt from ocean air or ice treatments on streets causes severe damage the base of the light pole over time.
Our PolySteel™ poles are built as monolithic, resin-based structures that are impervious to weathering elements. The resin is made with ultraviolet inhibitors blended into it. This allows the colors to stay vibrant even after years of being outside.
Inexpensive Shipping & Easy Installation
Because our products are made of composite PolySteel™, they are lighter than traditionally made light poles, making them more cost-effective to ship. All orders over $5,000.00 qualify for our free shipping program.
Another benefit of PolySteel™, being lighter than other products, is that one or two people can easily unload and install one of our light poles, so there's no need to contract a construction crew with heavy machinery to get your products set up.
We guarantee all of our TerraCast® lighting products with an industry-standard 3-year warranty.